Discover more from Cannon Stats
Stats and analysis for all things Arsenal from Adam Rae Voge and Scott Willis. Going deep into match analysis, player scouting, transfer business and rumors, squad-building, and general transfer coverage.
Over 4,000 subscribers
Arsenal 1-1 Southampton: (mostly) Instant Reaction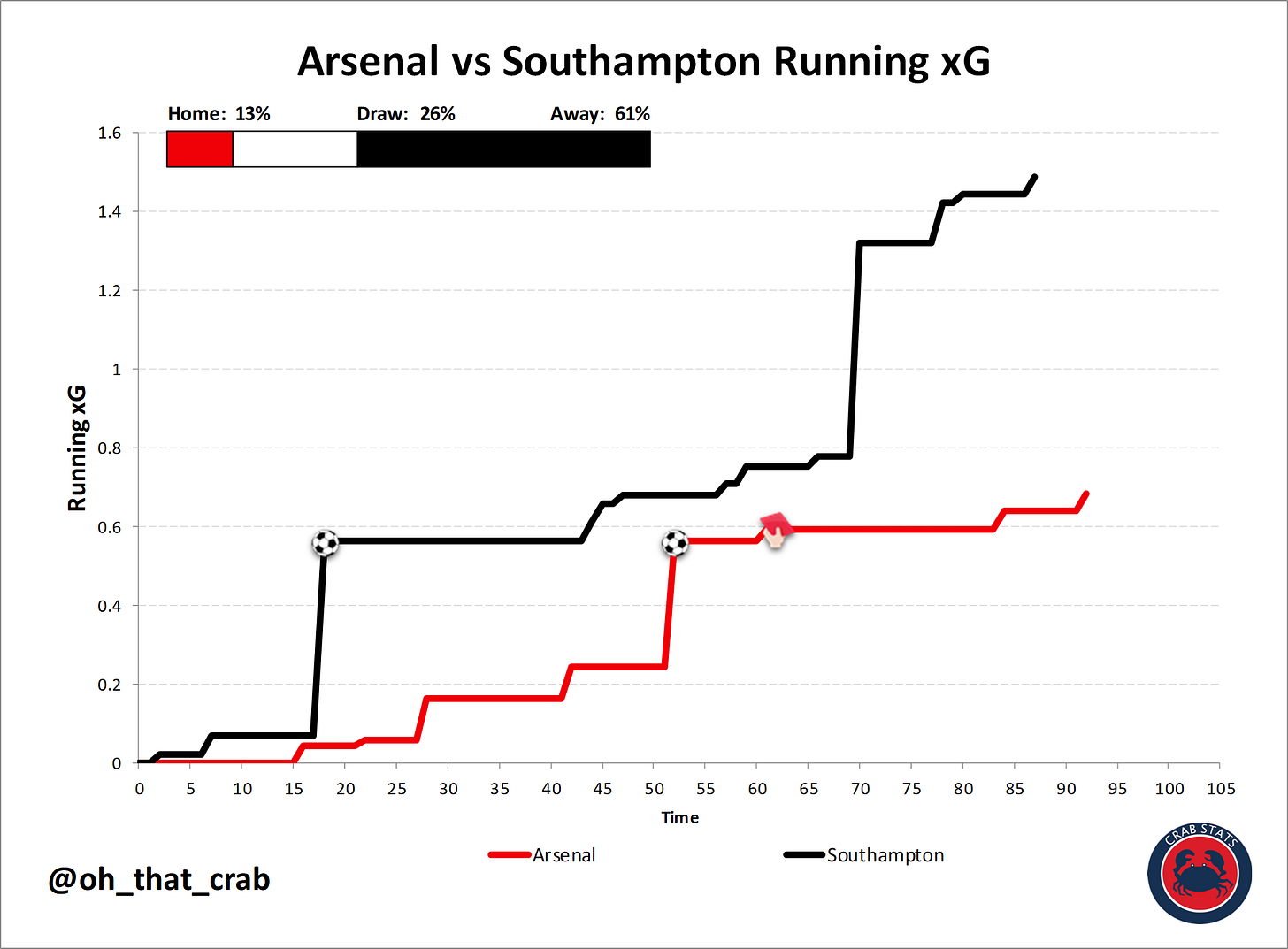 Well that's a point for Arsenal, it is less than the 1.3 my model predicted for them based on this and given that again they played a big chunk of the second half down a man, it could have been much worse.
Headline: Scored a goal but the attack is still broken
Arsenal finally scored a goal from open play in this match.
It was their first open play goal in nearly 800 minutes (actually if you count all the stoppage time it would be) of play going back to the Nicolas Pepe goal against Sheffield United 73 days ago.
Even before the red card, Arsenal were at best even with Southampton.
It was really weird to see another team come to the Emirates and simply dominate the ball. Sure you might have seen that from a Bayern Munich or Barcelona back in the day, but that was something that would almost never happen in the Premier League.
To me this really signifies how much Mikel Arteta is struggling for ideas in how to generate attack, adopting the classic underdog strategy of sitting deep and countering.
This shot chart is just not good enough for me. Arsenal created just one big chance, a couple half chances and that's about it. It is very normal for Arsenal to not create much volume but this kind of poor quality is not good.
Stock Rising: Any available attacking midfielder
One of the things that is obvious is that the strategy of using the striker as a false nine or number 10 is not wokring very well. Neither Lacazette or Nketiah is good enough at the creative and buildup part of doing that role for it to make sense.
You look at the passing network and that is really the spot that he is getting the touches when his one above average skill is getting on the end of things close to goal. It is a square peg, round hole situation.
The solution is playing a proper creative player, either one of the youth options or going out and adressing that in the transfer market.
So yeah all the other options look really good and have seen the stock rising for me.
Stock Falling: Eddie Nketiah
I don't want to pick on him, because he is being asked to play a role that doesn't fit his skills and he did provide the pass that set up Pierre-Emerick Aubameyang's goal today but it is becoming pretty obvious to me that Eddie is not good enough for the level that Arsenal want to be at.
He isn't a bad player, but he also isn't going to turn into a star striker.
He is also blocking the minutes that could be going to a player like Folarin Balogun who at this point has a much higher ceiling. One of the reasons that Arsenal are so bad at selling is that they hold on to players far too long, they do this with youth players (let others project their hopes and dreams on to them) and older players (probably better to let a guy go a season too early than one too late).
Once it became clear that Lacazette was staying (he should have been sold too) Eddie should have been shopped. I don't think that he has done anything this season in the Premier League to increase his value to other teams and it probably would have been better to let him go.
Some final graphics