Discover more from Cannon Stats
Stats and analysis for all things Arsenal from Adam Rae Voge and Scott Willis. Going deep into match analysis, player scouting, transfer business and rumors, squad-building, and general transfer coverage.
Over 4,000 subscribers
Arsenal KPIs - February Edition
Looking at what the stats say about how Arsenal are playing on the key performance indicators.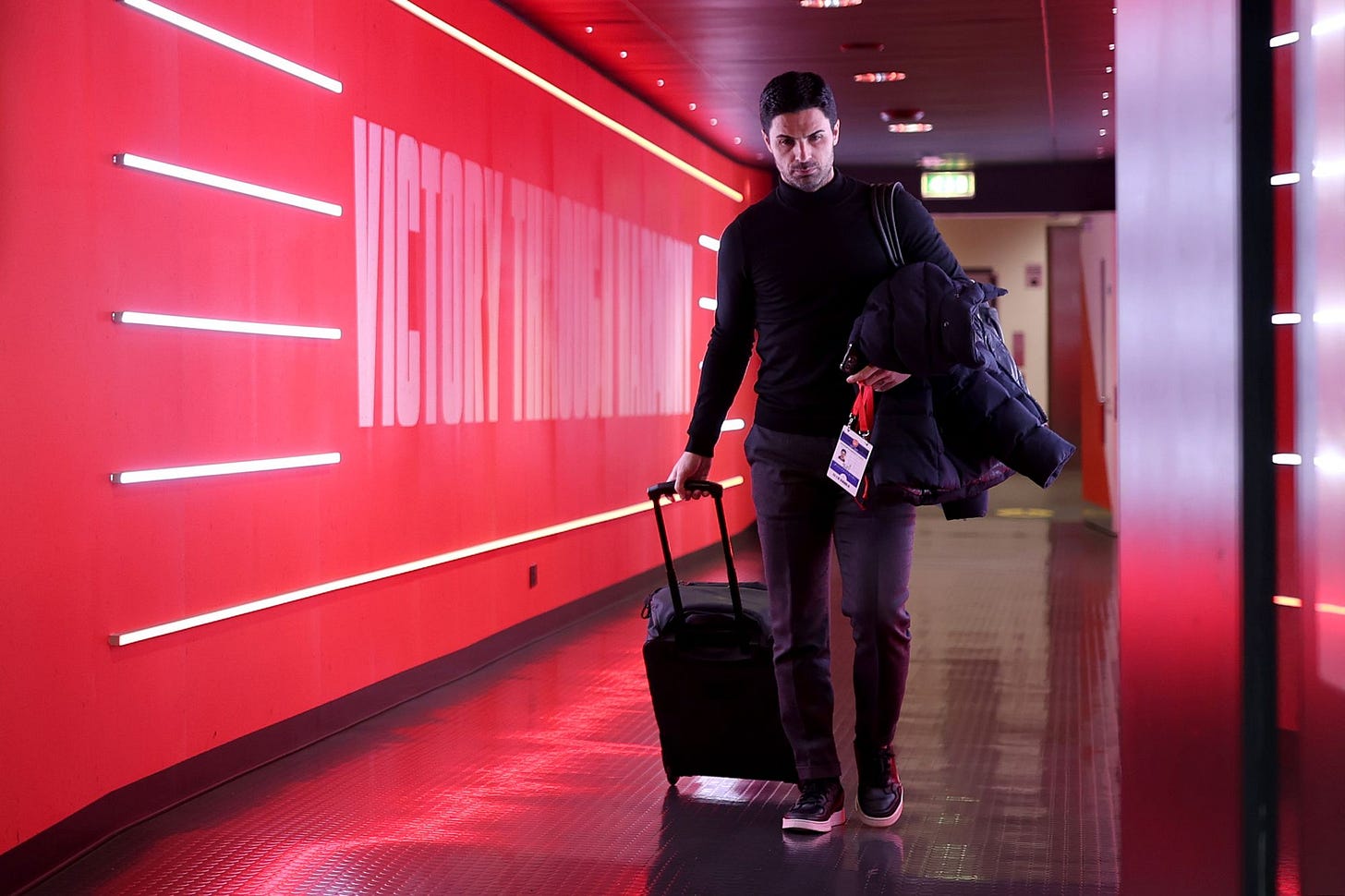 This will be the third edition of me looking at how Arsenal are doing compared to the key performance indicators and the second with this format.
To revisit, these are my goals for the team, I think that they are pretty good and generally match the consensus expectations for Arsenal at the start of the season. For me, the goal was to get back into European football, with a finish that was 6th or better. I also wanted the performance to match the finishing spot, preferably with signs that the team would be making progress on their way to challenging to top four next season.
To help with this measure I have gone back and looked at how teams have performed over select metrics going back to the 2013-2014 season and used that to help set baselines for the performance levels that I want to see.
Points
Arsenal are on 45 points with 24 matches played, that is 1.88 points per match. Extrapolated for the rest of the season that is 71.25 points which would essentially guarantee a finish of 4th or better, that point total would even be enough to get 4th in 5 of the last 8 seasons and exactly matches the average points per match of a 4th place team.
My projection model has Arsenal on 68.2 points right now, which would put Arsenal well above the average point total needed for 6th or better (64 points). The simulation model gives Arsenal an 96% chance of finishing 6th or better right now.
↗️
On this measure, Arsenal are on track to exceed my expectations, with a meeting them almost a certainty at this point.
Expected Goals
Non-Penalty xG is moving in the right direction (and is currently outstanding).
The defense overall still isn't quite as good as you would hope for the full season but it has been outstanding over the last several weeks.
Arsenal's overall expected goals difference is now in the positive for the season. The trajectory of that improvement has been quite drastic as well going from pretty good to wow that is really good.
xG For: Target 1.54 or better, Season: 1.61, Last 10: 1.91
xG Against: Target 1.25 or better, Season: 1.3, Last 10: 0.71
xG Difference: Target 0.3 or better, Season: 0.3, Last 10: 1.2 (WOW)
↗️
On this measure, Arsenal are right about at expectations, meeting them on xG Difference, beating it on xG, and trailing but moving in the right direction on xG against.
Shots
Shots For: Target 10.5 or better, Season: 11.7, Last 10: 14.1
Shots Against: Target 8.2 or better, Season: 9.1, Last 10: 6.7
Shot Difference: Target 2.3 or better, Season: 2.6, Last 10: 7.4
↗️
Overall Arsenal are generally expectations or better. Shots against for the season is still on the higher side but over the last 10 matches as been excellent. Basically, over the last 10 matches, everything has been excellent. 
Deep Completions
Deep Completions For: Target 21.5 or better, Season: 20.9, Last 10: 23.9
Deep Completions Against: Target 17.9 or better, Season: 16.5, Last 10: 11.5
Deep Completion Difference: Target 3.6 or better, Season: 4.4, Last 10: 12.4
↗️
Overall Arsenal are generally expectations or better, with again the last 10 weeks Arsenal much better than the targets.
Field Tilt
This is an area that makes me very happy. Arsenal are looking like a team that is finally applying constant pressure, especially against teams that they are "supposed" to beat.
Field Tilt: Target 54% or better, Season: 56%, Last 10: 66%
↗️
Arsenal are hitting the expectations and are on a trajectory to exceed them.
Overall
I have been in a wait-and-see stage with Arsenal and Mikel Arteta. I could see the green shoots in what Arsenal was doing but the previous data was mixed on how Arsenal was doing overall.
Now, well it is decidedly not mixed.
Over the last 10 matches, Arsenal have not only been playing like a top-four team but have been playing much closer to a title contender (season level) pace. The schedule will get tougher for Arsenal down the road but if the team can maintain even close to this level of performance finishing in the top four should be close to a certainty, blowing my expectations of top-6 out of the water.