Discover more from Cannon Stats
Stats and analysis for all things Arsenal from Adam Rae Voge and Scott Willis. Going deep into match analysis, player scouting, transfer business and rumors, squad-building, and general transfer coverage.
Over 4,000 subscribers
Arsenal KPIs - January Edition
Looking at what the stats say about how Arsenal are playing on the key performance indicators.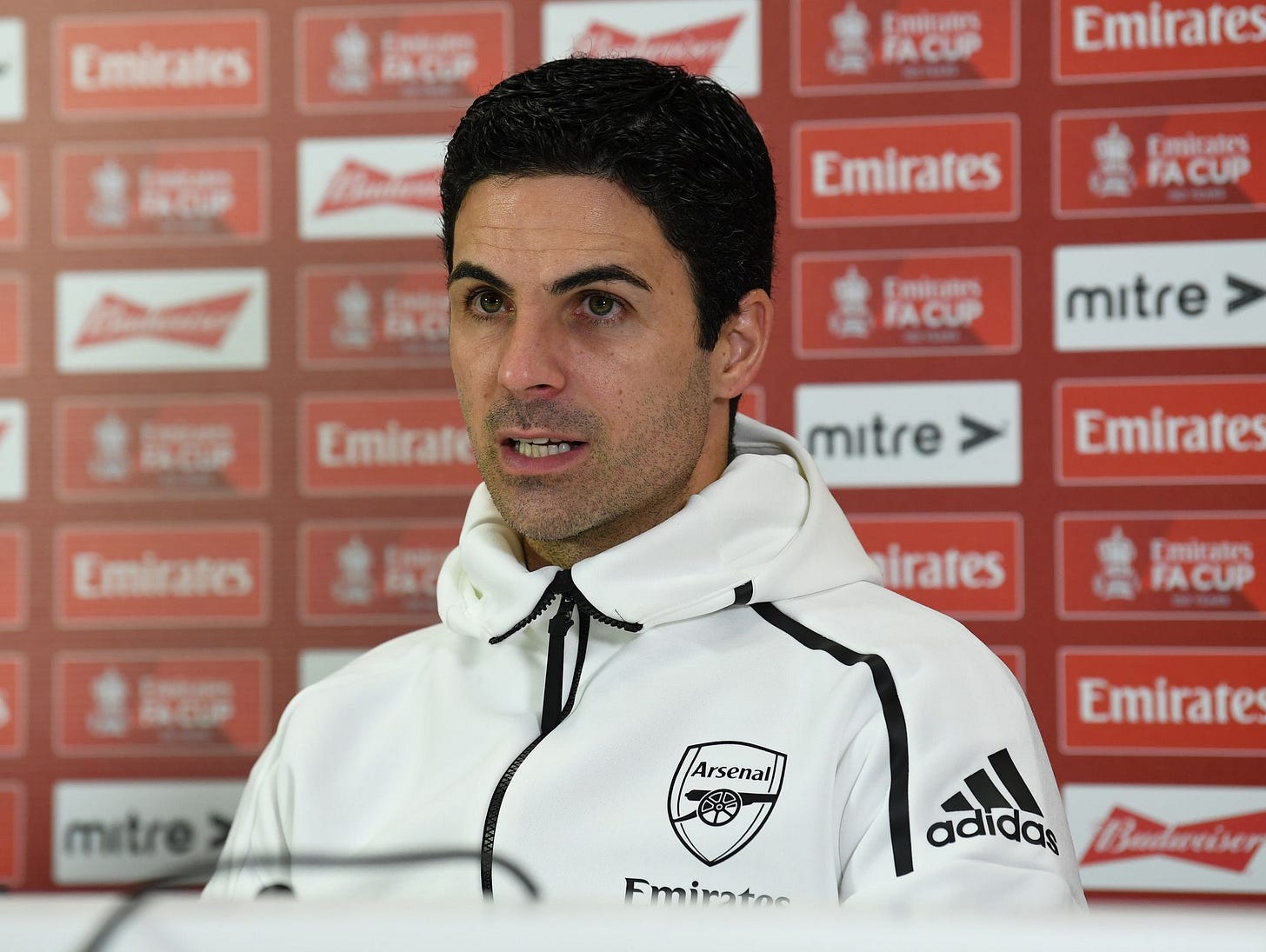 About a month ago I wrote a post following Arsenal's loss to Everton. I was not happy, the team was in a bad spot blowing a chance to pick up points against a weak Manchester Untied and a bad Everton. It was a local nadir for the season and the numbers reflected it.
I want to revisit this idea but I also wanted to make doing so easier and more automatic for me.
The goals are still trying to get an idea of where the team is compared to the goals set out at the start of the season. We don't know the exact goals but I think that we all have certain ideas of what makes a season successful. For me the goal was to get back into European football, with a finish that was 6th or better. I also wanted the performance to match the finishing spot, preferably with signs that the team would be making progress on their way to challenging to top four next season.
To help with this measure I have gone back and looked at how teams have performed over select metrics going back to the 2013-2014 season and used that to help set baselines for the performance levels that I want to see.
Points
Arsenal are on 35 points with 20 matches played, that is 1.75 points per match. Extrapolated for the rest of the season that is 66.5 points which would essentially guarantee a finish of 6th or better, that point total would even be enough to get 4th twice.
My projection model has Arsenal on 65.8 points right now, which would put Arsenal above the average point total needed for 6th or better. The simulation model gives Arsenal an 86% chance of finishing 6th or better right now.
↗️
On this measure, Arsenal are on track to meet my expectations, with a decent chance of surpassing them
Expected Goals
For the next few sections, I am going to rely on some newish graphics that I have made to help tell the story of how Arsenal are doing.
On the goal-scoring front Arsenal are below the expectations but moving in the right direction.
On the goal suppressing front, the early numbers are hurting but again things are moving in the right direction for Arsenal.
Arsenal's non-penalty expected goal difference is slightly negative for the season, but with signs that the team is moving in the correct direction.
➡️
I am a little nervous with how things look overall but I think that things are moving in the correct direction. I want to see more evidence before changing my rating on this measure. 
Shots
Arsenal's shot numbers have been impressive this season. It was a major concern of mine for a long time to see Arsenal spending a lot of time in the single-digit range for shots, but this year Arsenal are looking much better on this metric.
The shots against have gone up a bit from the end of last season, but I think that is being hit by a couple of bad performances. Things over the last few weeks have started moving in the correct direction.
Overall Arsenal are still not quite at the top six levels I am looking for but I think that the signs are that they are moving in the right direction on this front.
↗️
Not quite at the required levels but moving in the right direction
Deep Completions
Deep completions are passes completed within 25 yards of the center of the goal, this includes crosses and set plays.
Arsenal aren't too far off where I would like to see them, but they also don't look to be on an upward trajectory.
This is the type of graphic that I want to see, there was a bad spike when Arsenal were playing poorly but the numbers have bounced back to where I would like to see them.
The combined graphic matches what you would expect from the above two.
↗️
Another one that isn't quite at the level required but the stats are moving in the correct direction, so I feel pretty good saying that this is a green section for Arsenal.
Field Tilt
I like field tilt, not because it is overly predictive of team performance (it is but in the same weak way as possession) but because of the style of play it describes. When a team spends more of the time in the opponent's final third compared to the alternative that is a signal of dominance and general good attacking.
This season Arsenal went through a few "bad" periods when they were dominated but since then have generally been able to exert control on matches playing in the opposition half.
↗️
Getting close to hitting the expected levels off of a rough patch to start the season. 
Overall
It is not hard to say that things at the current time look much better for Arsenal. The team is in a much better position in the table (even if the current 4th through 7th place teams might be among the weakest we have seen in a while) with performances that have improved.
I ended my post a month ago with this:
It is hard to look at things above and come to any conclusion other than that the team is trending in a negative direction. A lot of these things are intertwined but they are all still pointing in the same direction. I am not massively #ArtetaOut but we now have a significant sample size that shows that he is not a special manager that will figure out a way to get a team to play above their overall talent level.
I am also not sure that Arsenal are playing significantly below their talent level either so pulling the trigger without a clear long-term replacement lined up (there is no Antionio Conte, Thomas Tuchel, or Jurgen Klopp out of a job right now). I think that Arsenal needs to start putting together a shortlist of managers and start feeling out the interest in coming in the summer.
I think that I am still in a similar place but with the trend changing. I want to see more evidence that Arteta can have the team play at the required levels for an extended period and to actually hit the requirements for a successful season. Thankfully this year, the bad period that he has pulled the team out of was not SO bad that the season was a write-off and the goals are still within reach.