Discover more from Cannon Stats
Stats and analysis for all things Arsenal from Adam Rae Voge and Scott Willis. Going deep into match analysis, player scouting, transfer business and rumors, squad-building, and general transfer coverage.
Over 4,000 subscribers
Southampton vs Arsenal: Stats Preview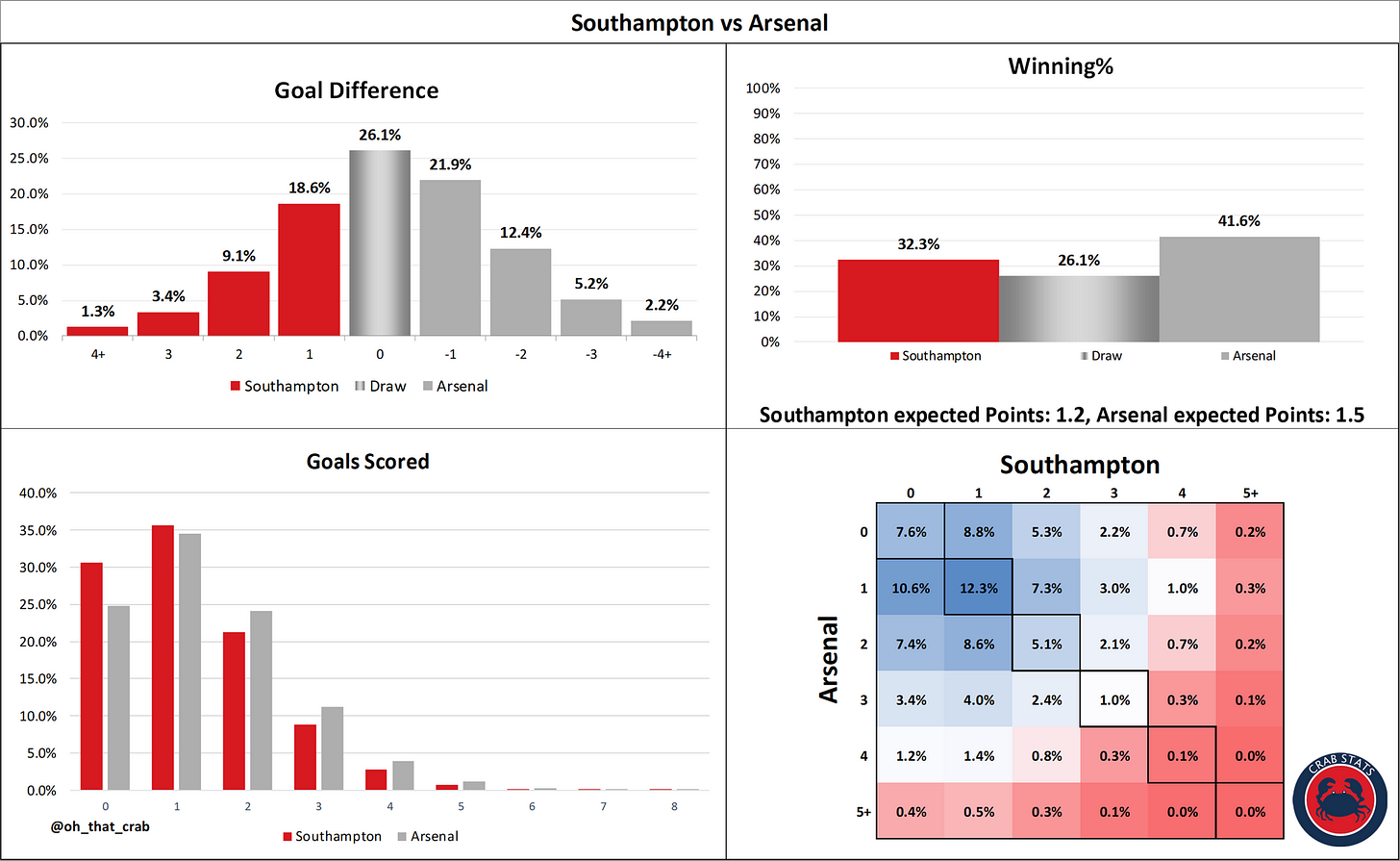 Arsenal were dumped out of the FA Cup by Southampton and now face them again in the Premier League
Southampton Radars
Southampton are not a great attacking team. My team rating model rates them as the 14th best attack, where they are about 12% belowe the average Premier League team, with FiveThirtyEight agreeing ranking them 13th.
The rank 15th in the Premier League in non-penalty xG, but 9th in non-penalty goals. They take the 14th most shots per match but manage to make those shots count, with the 6th best xG per shot.
A lot of the over performance has come from set plays. They have scored 9 goals from 4 expected goals in these situations.
Everything else about their statistics looks very mediocre, they aren't especially efficient at counter attacking (they give up more counter attacks than they create) and while they manage to have more of the ball than their opponents they struggle to progress the ball into dangerous locations.
What they do, do however is disrupt other teams attacking moves.
In a time when teams are not pressing, Southampton still are (they lower than last year but not to nearly the same degree as other teams). They are very active at trying to breakup attacking moves of the team they are facing with the second most defensive actions per minute of possession faced.
For the most part this has worked pretty well for them. They do a good job at limiting the shots that they face. This comes at the expense of the shots that they do give up being fairly high quality but based on where they are on the table this has worked pretty well for them.
Overall I have them ranked as the 10th best defense, about 6% better than the average Premier League team, which is roughly in line with FiveThirtyEight's ranking of 8th.
Tree Maps
For the coming match, Southampton will be with out their number 2 and 3 ball progressors.
They will have their primary goal threats available for this match and while they only scored from a fluky deflection, they did often look dangerous in that match.
Che Adams was a handful for Arsenal on Saturday and has been responsible for 30% of the teams creative output. He is second overall in xG+xA for Southampton, providing a pretty impressive 0.23 xG and 0.25 xA (9th in the Premier League).
Last 4 League Matches
Over their most recent matches, Southampton have not been good. They have only been outscored 2 to 1 but they have given up nearly 6 expectd goals and have only produced 2 expected goals for themselves.
A lot of this goes into my theory that Ralph Hasenhüttl is a very good coach, and the talent on this Southampton team is not very high.
They line up in a 4-4-2, but looking at the average touch positions they don't really look to play that way. When Theo Walcott plays, to me they look like more a 4-3-3 but regardless, their forwards and midfielders touch the ball fairly close to the center, with the fullbacks pushing up to provide width.
Match Simulation
Arsenal are favorites in this match but not overwhelmingly so.
In the match Saturday there were certainly openings to exploit this Southampton team but the players that Arsenal went with were unable to take advantage of this. Hopefully Arsenal with a full strength and mostly rested team can take 3 points from this match.