Discover more from Cannon Stats
Stats and analysis for all things Arsenal from Adam Rae Voge and Scott Willis. Going deep into match analysis, player scouting, transfer business and rumors, squad-building, and general transfer coverage.
Over 4,000 subscribers
Arsenal vs Crystal Palace: Stats Preview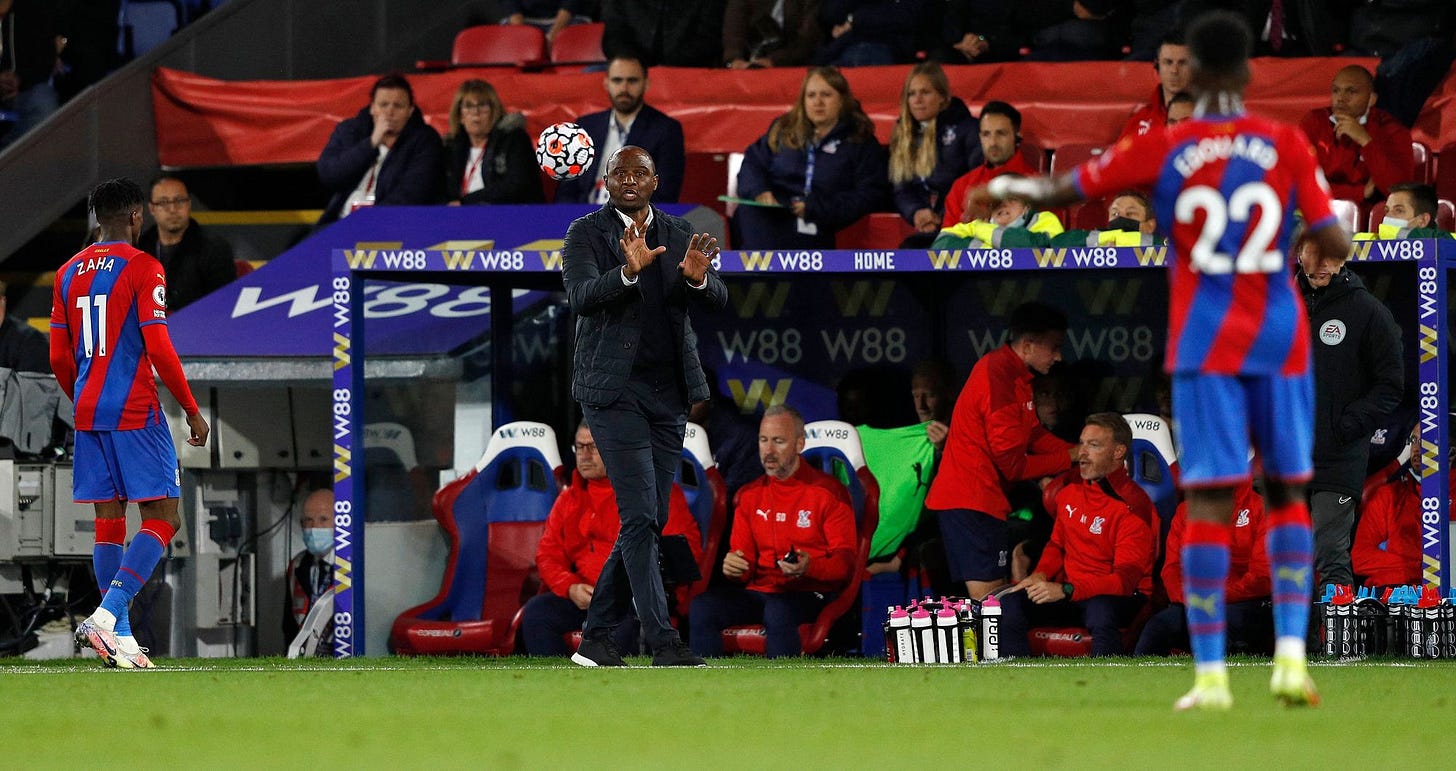 Coming back from the international break, Arsenal has to wait all weekend to play. It kind of sucks but at least players that were away with their national teams will have a couple of extra days to get back into the Arsenal frame of mind.
When Arsenal do finally get to play, they have Crystal Palace led by former captain and legend Patrick Vieira.
I have been impressed with how Vieira has shaped this Crystal Palace team. At the start of the season, I expected them to be among the worst teams in the division and now they are moving up towards mid-table. Based just on this season, they have been the 9th best team based on my projection model.
The difference between this Crystal Palace team and the one from last year is pretty stark. This team plays a much more possession-oriented style, but also a completely different pace. Vieira has Crystal Palace attempting about 100 additional passes per match and having roughly 50% of the share of passes compared to 40% last year. The numbers suggest that they are also very methodical and deliberate in their build-up, they have the second slowest pace towards goal in the Premier League this season.
Crystal Palace is also taking more shots, 1.3 additional shots from open play this year, while they have actually managed to increase their average shot quality.  
Looking at where Crystal Palace creates threat from you can see the basis towards the left-hand side (aka the Wilfred Zaha side). This will be an interesting test for Takehiro Tomiyasu.
On defense, they are a much better team than last year, my numbers suggest that they are the 6th best defense so far compared to 19th last season. What is interesting is that they are actually doing fewer actions but it has resulted in much less dangerous possession for the teams that have faced them, I'd say due to using possession as a form of defense.
This season they are allowing 30 fewer touches for opponents in the final third, which has translated into 3 fewer touches in the box allowed, and one fewer shot from open play.
Looking at where they engage on defense it looks to me like they are a team that plays more of a mid-block, and aren't an especially "pressy" team.
Stats By Players
Player to watch - Wilfred Zaha
Wilfred Zaha is still the main man at Crystal Palace but how he is playing has changed. Last year he was much more of a forward and this year he has moved back out to the wing. The change has meant also that how he has produced threat has changed as well, he is taking fewer shots, less expected goals, and fewer touches close to goal.
He is back to doing more dribbles and progressive carries and has become a much bigger factor for creating for his teammates.
Match Simulation
Arsenal is the favorite for this match but this has tightened up quite a lot over the last few weeks as Arsenal were just okay even as they got results and Crystal Palace continued to play well.
The betting odds are more in favor of Arsenal and have really shifted their way over the last week. The implied odds from Pinnacle have Arsenal at 59% (up from 52% from last week).
Five Thirty Eight has Arsenal as bigger favorites than me (they also have not dropped down their ratings nearly as much as they have in my ratings) with a 53% chance of winning.
I think that this is a huge match for Arsenal, the run of games for the next month is favorable and will be a good measuring stick for the team.