Discover more from Cannon Stats
Stats and analysis for all things Arsenal from Adam Rae Voge and Scott Willis. Going deep into match analysis, player scouting, transfer business and rumors, squad-building, and general transfer coverage.
Over 5,000 subscribers
Arsenal's fast starts have disappeared
Arsenal are starting more conservatively and slower this season
Things feel different right now at Arsenal.
The points (especially when looking at the same matchups) and position on the table look good but things look off. Maybe some of that is the change in expectations among fans and pundits. Maybe some of it is the change to key players due to new additions or injury. Maybe it is a change of tactics, both from Arsenal and the teams we come up against.
Realistically it is probably a bit of all of these.
I went through the stats a month ago, looking at the change in style for Arsenal but it is probably worth another look now that we will hit 10 matches played after this weekend.
Today I wanted to look at something that came up while I was having a conversation about the issues above, which is about Arsenal losing the quick starts that seemed to be the hallmark of the play last season.
At a high level, the difference is stark, ZERO goals scored in 9 matches in the opening periods of games, compared to 14 total last season. On a per-match basis that is 0 compared to 0.37 per 90 (1 every 3 matches).
In a low-scoring sport, getting that first goal, especially early in matches is a massive difference for being able to accumulate points. Last year the fast starts helped propel Arsenal to an unexpected title challenge. Last year Arsenal ended up spending 42% of the minutes they played in a winning position, and this year it is down to just 27% of minutes played.
That has meant more stressful matches trying to break down team, more time scratching to fight and comeback, and more draws. The team has shown great reliance but it is not always something that lasts.
So not only have the early goals dried up for Arsenal, but they have also seen a pretty significant drop in their underlying numbers early in matches:
Arsenal's expected goals are down 30% in the opening period.
Arsenal's shots are down 48% in the opening period.
Arsenal's final third touches are down 19% in the opening period.
Arsenal's touches in the box are down 26% in the opening period.
What has gone up is possession from 60% to 63%, field tilt from 70% to 77% and pressing intensity as measured by passes allowed per defensive action from 15.8 to 11.2.
Arsenal have more of the ball, are winning it back more often but starting a bit further back on average, and have a higher share of the final third possession. They have just been unable to turn this extra possession into additional threatening chances of scoring. Nor have they used this to increase their ability to keep teams from getting shots/goals off against them, with shots allowed up slightly from 0.9 per match to 1.1 this season. It is a worrying trend that they are apparently trading less attack for more security at the back, but getting neither.
It is still early in the season and with some tough games thrown in there as well, and like with any slice of data a couple of moments can make the difference and drastically change the numbers but at least for now the feelings of watching the match, match the data.
There is a pretty big departure from last year and at some point, we will need to stop trying to compare what is happening now to last year and let it stand on its own, and make a determination if it is good or bad. Right now the results are good, Arsenal have matched the results from last season (there I go again) and are on an 88-point pace but the departure in style and change of players combined with underlying numbers that are more top-4 than title challenge are still in the back of mind.
Maybe things change as Arsenal have a favorable run of fixtures ahead.
Cannon Stats is a reader-supported publication. To receive new posts and support my work, consider becoming a free or paid subscriber.
Matchweek 10 Odds
The Premier League moves into the magical 10 matches played threshold so after today we can all look at the table and make big proclamations about things, but don't start until all the matches are done.
The weekend starts Friday with Tottenham and Crystal Palace. Spurs have the funny Monday and Friday schedule that you don't see often but with them out of Europe and top of the table, it makes sense that they get these types of TV games. Selhurst Park under the lights is never an easy match so it could be an interesting one to watch.
Saturday's early match is another London Derby. Brentford have been a weird team where the numbers for them still look good but they have not turned that into points at the same rate. They face a resurgent Chelsea and will have a hard test here.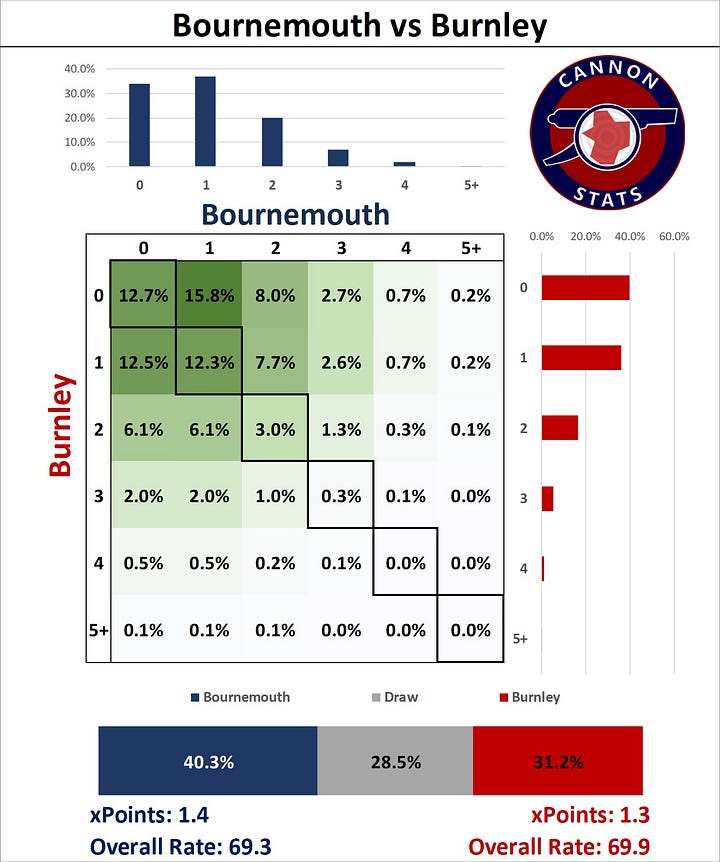 Only two 7am (3pm UK) kickoffs this weekend with lots of Sunday action. My focus will be on Arsenal where they are really big favorites.
Saturday ends with Wolves hosting Newcastle, they are coming off a loss in the Champions League and news that there big summer signing is getting a long ban. My model still loves them and the numbers they have put up (even if they are a little weird) How will they respond to this setback?
Sunday is jam packed and starts with the Moyes Derby. Everton is dealing with their own drama, they might be facing a 12-point deduction for FFP violations and that could put them in major trouble. Every match will become massive for earning points.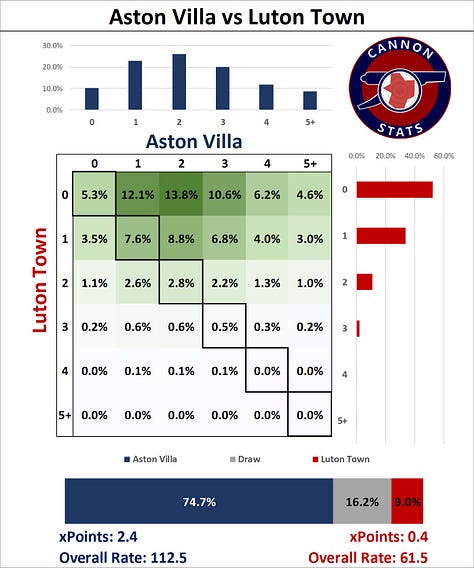 In an unusual twist there are more 7am Sunday matches than Saturday. None of these are close on the odds, maybe NBC will give us a whip around show on Sunday to be able to keep an eye on all three of these this weekend.
Last but not least is the Manchester Derby. City have looked vulnerable this season but then again so have United (who look like a midtable team). I don't have high hopes that this will be entertaining but hope that I am wrong, a loss for either team is great and a draw is still a pretty good result for Arsenal.
🤠 Yee Haw.
Enjoy the weekend, lots of content post-match.