Discover more from Cannon Stats
Stats and analysis for all things Arsenal from Adam Rae Voge and Scott Willis. Going deep into match analysis, player scouting, transfer business and rumors, squad-building, and general transfer coverage.
Over 4,000 subscribers
Checking in on the Top 4 Race
Taking a look at how the race for 4th place looks at the moment.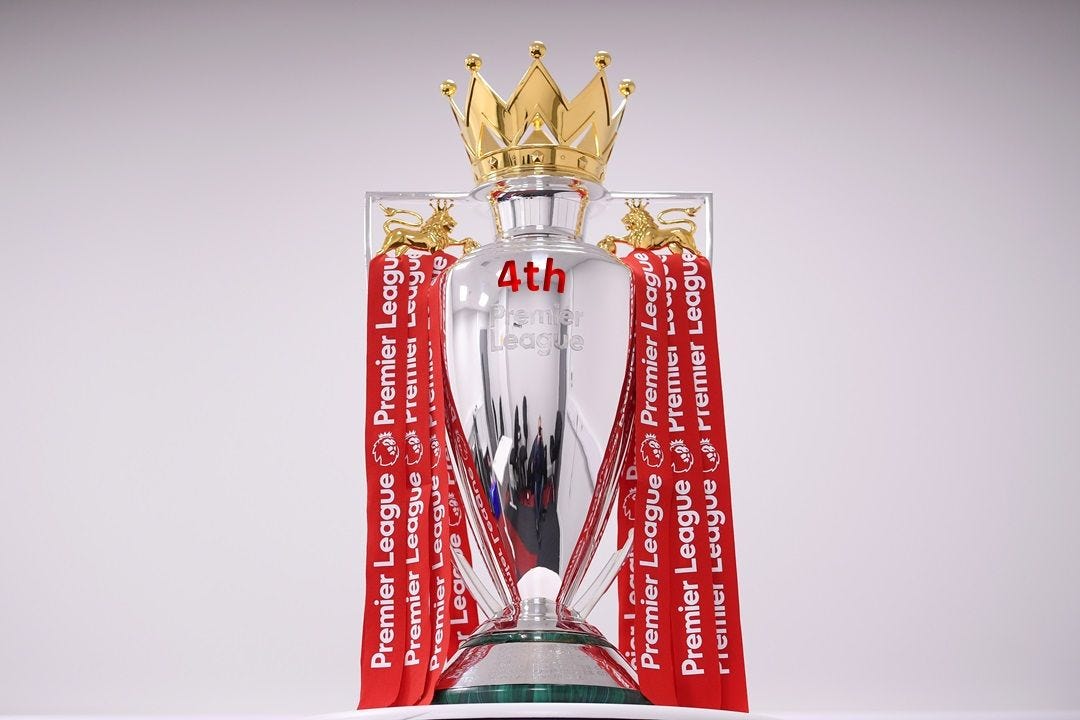 The top 4 race in the Premier League is looking really tight, there are several teams still in the hunt but there is starting to be some separation between the group fighting for top 4 and the rest of mid-table.
From the latest run of my simulation Arsenal, Tottenham, West Ham, Manchester United, maybe Leicester City starting to see some daylight from the teams below.
Turning these spreads into odds I get the following.
Arsenal have moved up quite a bit on my simulation, especially with some of their direct rivals having matches postponed. Arsenal turning the fractional points pre-match into actual matches has really helped.
Manchester United could be above Arsenal if they win their game in hand but my model sees an away match to Brentford as tricky fixture, marking them favorites but only 45% to win. The expected points for that match put them at 28.6 and with an overall rating that is behind Arsenal the average results don't see them overtaking Arsenal.
Tottenham are in a similar situation, but with 3 games in hand. Getting results in those matches and they too could jump above Arsenal. Something that should make Arsenal fans nervous is that Spurs are pretty big favorites in the games in hand, with expected points 1.7, 1.5, 1.5 putting their current expected total above Arsenal. They are also about equally rated with Arsenal in the team ratings meaning things should be very close between them. Arsenal's actual wins are helpful here but it does mean that there are more potential situations for Spurs to make up (or drop points) giving a wider less ceratin spread of outcomes.
Team Ratings
These are the team ratings that feed into the simulation model, they don't take into account new managers beyond seeing improvments in performance so it is certainly possible (maybe probable) that both Spurs and United are being underestimated.
Overall in the current season, the results this year are now making up a bigger portion of the weighting (about 70% this season for most teams but depends on matches played). Of that the last 10 calendar weeks is about half of the weighting with the full seaosn making up the other half. I think that this makes for a pretty good blend between the current season (a good graphic on that below) and taking last year as a baseline to regress back towards.
Comparing to others
The biggest difference between my model and FiveThirtyEight is the ratings of Manchester United and Tottenham. I really don't know which is better or more true, but Manchester United's Champions League Performances might be something that is really giving them a boost while Tottenham's struggles in the Confrence League could be dragging them down.
The betting Markets on the other hand are still very strongly in favor of Manchester United. Most books have United at close to 50% to make top 4, with Tottneham and Arsenal at 20%.
Overall, I think I would put Arsenal closer to 1 in 3 or 4 to finish in the top 4 than the 1 in 2.5 my odds say. Arsenal are a young team that might have trouble consistently performing, they have an atrocious spread in performance between home and away, plus they have some drama around their best striker and biggest star that is not great.
That being said, they also have some advantages in no European games to deal with in the spring, a healthy injury list, plus they don't currently have any matches to make up that will add to future fixture congestion.
Arsenal are in a good spot to pick up points the rest of the month and try to put some space between themselves and their rivals.