Discover more from Cannon Stats
Stats and analysis for all things Arsenal from Adam Rae Voge and Scott Willis. Going deep into match analysis, player scouting, transfer business and rumors, squad-building, and general transfer coverage.
Over 5,000 subscribers
Comparing Raya and Ramsdale's Passing
Plus is Arsenal's slower and more ponderous attack the problem?
Arsenal have put themselves in a tough situation with their goalkeepers.
Arsenal are pushing out a fan favorite, who is English and is a player that has helped Arsenal go from 8th to 2nd on the table. This is not a position that most people would have been calling out for a change and yet we are here.
The Club and Manager probably don't care that much, I am sure they think that David Raya is at a minimum a marginal improvement over Aaron Ramsdale, but more likely that what he can bring is significant. I am inclined to believe this as well, having looked deeply into the numbers and video for the players.
That being said not everyone in the fanbase is sold on it and the examination of the players is going to continue for the foreseeable future.
It became really apparent in the first half of the match against Manchester City. I have heard in a couple of podcasts and rumblings online with people wondering if Raya should have been in line to get subbed after his performance (Arteta probably didn't do himself any favors with his comments about wanting to make a sub for a keeper there). In the end, Raya turned around a shaky opening 25 minutes to have a strong second half but the doubts and questions are not going away.
Enough preamble let's look at the stats:
The first thing that is noticeable is the difference in volume, Raya is attempting nearly 45 passes per 90 which is 50% more than Ramsdale's just short of 30 per 90. The mix of passes is roughly the same, with them going in roughly the same directions at similar rates, the main difference is that Ray's average passes are longer than Ramsdale's.
Raya has completed more passes than expected compared to Ramsdale (this is the efficiency measure) and has been able to get slightly more goal probability added with the extra volume and progressive distance that he is adding.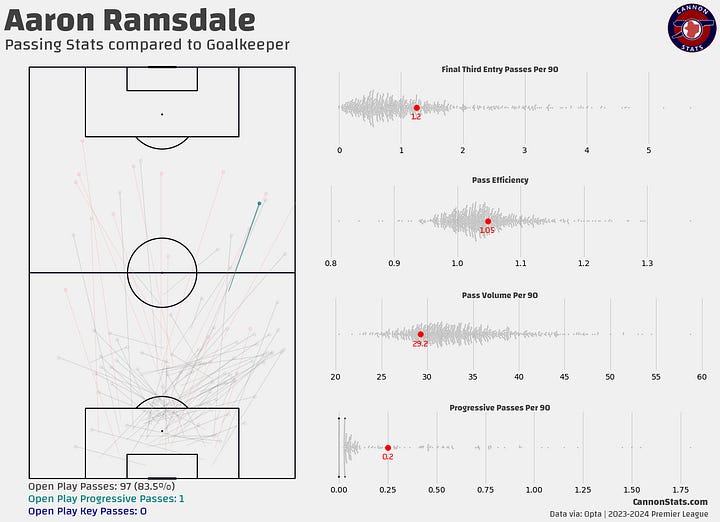 Looking at the passing the volume difference is again the most stark difference and what drives the extra final third entries (in addition to the longer average pass length).
It is an interesting question is to why there is such a big difference in volume. I don't have an answer from the data here because when you look at the players they seem to be roughly in the same positions in possession and Arsenal's overall style has not drastically changed with the two keepers. Maybe it is an instruction or something where the players on the field have different trust levels. It might be something to look further at.
This last pair of graphics is just another way of hammering home what we have seen before. The overall passing percentages between the three length categories is roughly the same but with a major difference in volume.
The one that interests me the most is the long passes. There the difference in volume is more stark, with Raya attempting 7 additional passes per 90(16.5 vs 9.5). With this extra volume that is a pretty significant difference in passes completed down the field.
What do you think of the keepers here? Who is your preference for Arsenal's first choice?
Cannon Stats is a reader-supported publication. To receive new posts and support my work, consider becoming a free or paid subscriber.
---
Advertisement (free plug this time)
Order the new Arsenal book "From Double Double to Invincible – The Continued Adventures Of The Cool Cat In His Magic Hat" by Dave Seager @goonerdave66 with Illustrations from
including a Limited Edition calendar with awesome poorly drawn illustrations for each month.
This makes the perfect gift for the fast approaching Holidays
. Available for order in the UK and overseas.
---
Slower is worse?
Something that came up in the latest Arsenal Vision Podcast that I thought was worth looking at deeper.
Our optimal attacks last season were when we played somewhere between 4-5 passes per sequence. This season we are up around 7, or we have been in a few games recently, the point is we have more passes per sequence.
This was referencing something from a friend of the newsletter, Edu's BBQ. I am not bringing this up to dunk or anything, but rather because I think it is a fascinating conversation.
Here is what
wrote after the Spurs draw
:
Since the beginning of last season, Arsenal have shown that they have a general tempo in which they're most productive. Speaking anecdotally, that always seems to be when they average around 5 or 6 passes per possession.

When it's fewer than that, they're usually running too hot — pushing the ball up the pitch regardless of the opportunity ahead of them, and losing it too often. When it's more, they look lethargic, and likely to make a mistake.

In this one, they averaged 3.47 passes per possession. They haven't been under 4 since the Brighton loss last year.

The ability to manipulate tempo is a big part of the team's collective next step
My data might be slightly different (what is a sequence/possession is always a bit murky) than what Carpenter used but I think it should be in the same ballpark.
I want to try and see a pattern here but it really looks like a pretty random scatter here. There are a few games where the passing is slow (passes per possession are high) and the xG is low but there are similar games where that slow play has led to high xG.
The correlation between these is not strong at 7% and with a quick regression saying that passes per possession only explains 1% of xG for Arsenal. It looks a bit too random from where I would draw any conclusions from it as an indicator of how well the attack is functioning.
I think there is something absolutely to the speed at which Arsenal attack, it is pretty significantly slower, going from 7.5 passes per possession last year to over 9 and with the speed towards goal dropping from 2.1 progressive yards per second in possession to 1.8 I just don't know if it is quite as clean as being able to say a certain amount of passes per possession is ideal.
I think that you can make an argument that this is also tied to the improved defensive metrics that Arsenal have posted this season.
Arsenal have had some bozo-level mistakes that have made the defense look worse that it has but even then they are looking like an elite unit again this season.
It's still not perfect but the pattern here IS much stronger, there is a 31% correlation between passes per possession and xG against.
It is still a frustrating topic to try and fully diagnose why the attack isn't working but I don't think there has been enough change since I last looked at this a couple of weeks ago to change what I think is that this is a choice to favor being solid at the back after where the team ended last year.
---
No match odds this week with the international break but there is an Arsenal Women's game on Saturday where they will look to get back on track after picking up just 1 point from the first two rounds.
I am looking to expand coverage to include the women's team as well so I will look to potentially have a debrief of this match this weekend as well.
🤠 Yee Haw