Discover more from Cannon Stats
Stats and analysis for all things Arsenal from Adam Rae Voge and Scott Willis. Going deep into match analysis, player scouting, transfer business and rumors, squad-building, and general transfer coverage.
Over 4,000 subscribers
Debunking the Mustafi had better stats than van Dijk myth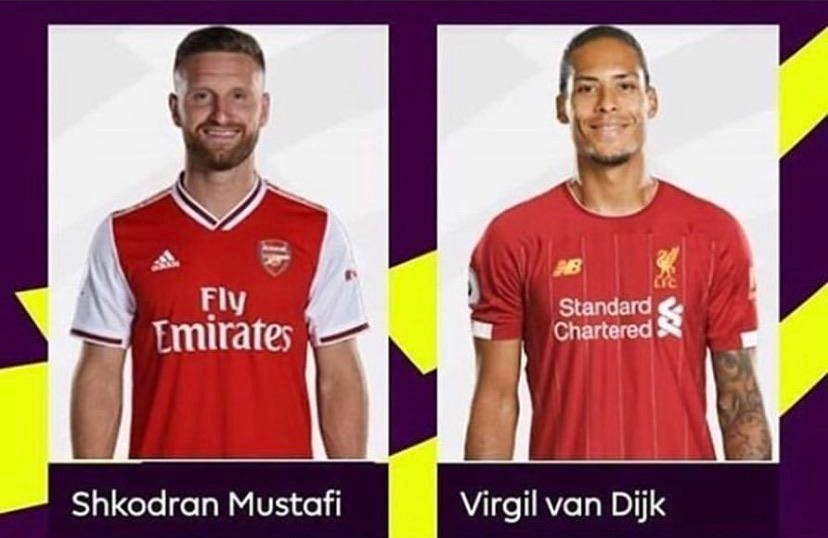 A programing note, next week I am on vacation so there will not be a newsletter next Friday, I am fully checking out and leaving the laptop at home so even the biggest breaking news will be skipped for at least a week.
Today I want to write about something a little different but something that still comes up from time to time and really bugs me.
I am pretty certain you all have seen this image:
I feel like I have seen it a thousand times on twitter, with it often coming up when discussing center backs and stats for one player or another are brought up. Now that it is years later I see the actual image a lot less but I think that might be actually worse as it is still something people vaguely remember seeing but can't remember the specifics.
The usual response is usually something along the lines of "well the stats for Shkodran Mustafi said that he was a better player than Virgil van Dijk therefore stats are meaningless."
When you see the image, if you have a passing knowledge of stats, can see that most of these are meaningless at worst to misleading at best.
Two of the stats refer to participation in international cups, not even caps which would show van Dijk with 32 caps to 23 for Mustafi. This might have some value in that you need to be at a certain level to be part of a national team but that also depends on who else is there in your position and the teammates that you have to make big tournaments.
One of the other stats on this list is trophies, which is a pretty crazy stat to judge a player on because again it is something that is so dependent on your teammates and not something that you typically give a lot of credit to a center back for. That is also counting the Community Shield as a trophy but ignoring the things that van Dijk won as a part of Celtic. Oh and by the way at the end of the season that this came out Liverpool won the Champions League.
The last major one on this list that is highly misleading is 'headed goals.' This isn't wrong factually but it is something that seems especially to boost Mustafi. This season Mustafi scored just these two goals, while van Dijk added two goals scored with his feet to his two goals scored with his head. It's not bad to include things looking at the threat a center back might have to score from the likes of set plays but this is incredibly misleading.
The last ones are at least relevant to what a center back does but I think still miss context. So let's add some missing context to this.
One of the thing that I think is frustrating for people with stats or people that I think use stats irresponsibly is that they aren't usually something that ends a conversation with a definitive answer. I think that is very much the case with Mustafi vs van Dijk.
On shots van Dijk has the edge of getting on the edge of more chances, having more expected goals and goals. Mustafi was not bad at this but unsurprisingly the larger van Dijk was a better target for generating offense through set plays.
At ball progression, this is another area where van Dijk comes out ahead but maybe not quite as much as perhaps maybe we thought. This is one of his biggest strengths and what I think makes him special beyond being just a good defender. I think that this was also something that Mustafi was underrated in.
Van Dijk is more two-footed, was a much larger hub for Liverpool's buildup, and was more efficient at completing the passes that he attempted.
Van Dijk was also a player that more often increased Liverpool's probability of scoring through his passing than Mustafi.
Before we get into the thorny area of actual defensive metrics I wanted to look at both players carrying of the ball. This is another area where the two players look similar but I think things would tilt ever so slightly towards van Dijk. The reason I would tilt that towards van Dijk is that they were both able to produce similar numbers with the ball at their feet but van Dijk was able to produce that while being more secure on the ball 3 times compared to 14 for Mustafi (in 9 fewer 90s).
The Defensive Metric Elephant in the room
I have gone 800 words trying to avoid but it is time to talk (rant) about defensive event stats for defenders.
This is absolutely not something that I would put a lot of stock in telling me if a player is good or bad but rather telling me what actually happened on the pitch but even then it is something that needs to be dug into more. The big issue is that with defense we are trying to measure the absence of something occurring (mainly goals, but also good quality shots, or dangerous possession) and that is not always compatible with event data that only has something to record when an event happens.
If a player is in a perfect position so that an opponent doesn't try a pass that could lead to a goal, that is something that isn't measured and no one gets any credit for. On the flip side a player that screws up his positioning but makes a good recovery tackle gets credit even if the only reason he made that action is he messed up at first. As you can see it can get messy really fast.
I think that is very much the case with van Dijk and Mustafi.
Mustafi is a classic front-footed aggressive defender. His play is typified by looking to defend by trying to win the ball at all costs. This is something that can be a high reward strategy when it comes off but can come with calamitous moments that stick in your mind.
Mustafi attempted 188 ground duels in 2018-19, which was nearly 6.5 per 90 minutes. he was successful on 72% of them but also committed two errors that directly lead to an opponent's shot.
Van Dijk on the other hand was (and still is IMO) a more passive defender with regards to looking to win the ball back. Watching him play he looks to neutralize attacking threats before they happen, and when he does defend one of his favorite tactics is keeping his big frame in the way of players trying to move the ball into dangerous locations.
The difference in duels between him on Mustafi is quite stark. Van Dijk had 101 ground duels in 2018-19, which was just 2.7 per 90 minutes. he was successful on 88% of them while also committed no errors that directly lead to an opponent's shot. He didn't (doesn't) commit himself to challenges often but when he does, he is very good at coming away with the ball.
Conclusion
There should be a couple of takeaways that I think you should get from this essay. First is that it is easy for people who are out to prove a point to post a stat that can agree with them, especially when you only have 260 characters to work with. I am well past that at his point (over 1,200 words as of right now) and with several images to help illustrate those points.
Second, I think you can still analyze center backs with statistics but it is something that takes looking at multifaceted angles to try to get a sense of them.
Third, I hope you take away that Virgil van Dijk is very good but also that Shkodran Mustafi had moments where he was also good (but not VvD good) playing a much more variable style that when it eventually started going wrong more often sapped much of the value that he had provided previously.
Links
Another week of #content.
I continued my series of looking at how Arsenal did, position by position with two posts. The first on the right-backs:
Also on the center backs:
I also had two premium posts, the first looking at the transfer of Darwin Nunez to Liverpool:
And then the 'shock' and 'out of the blue' move by Arsenal for Fabio Vieira prompted me to do a stats scouting report:
It was also a week of podcasts for me, with two appearances on the Arsenal Vision podcast for Patrons, the first with Clive doing stats similarity for some fun players and then the inaugural episode of Stats Guy and the Civilian with Paul.