Discover more from Cannon Stats
Stats and analysis for all things Arsenal from Adam Rae Voge and Scott Willis. Going deep into match analysis, player scouting, transfer business and rumors, squad-building, and general transfer coverage.
Over 4,000 subscribers
Dubious Transfer Review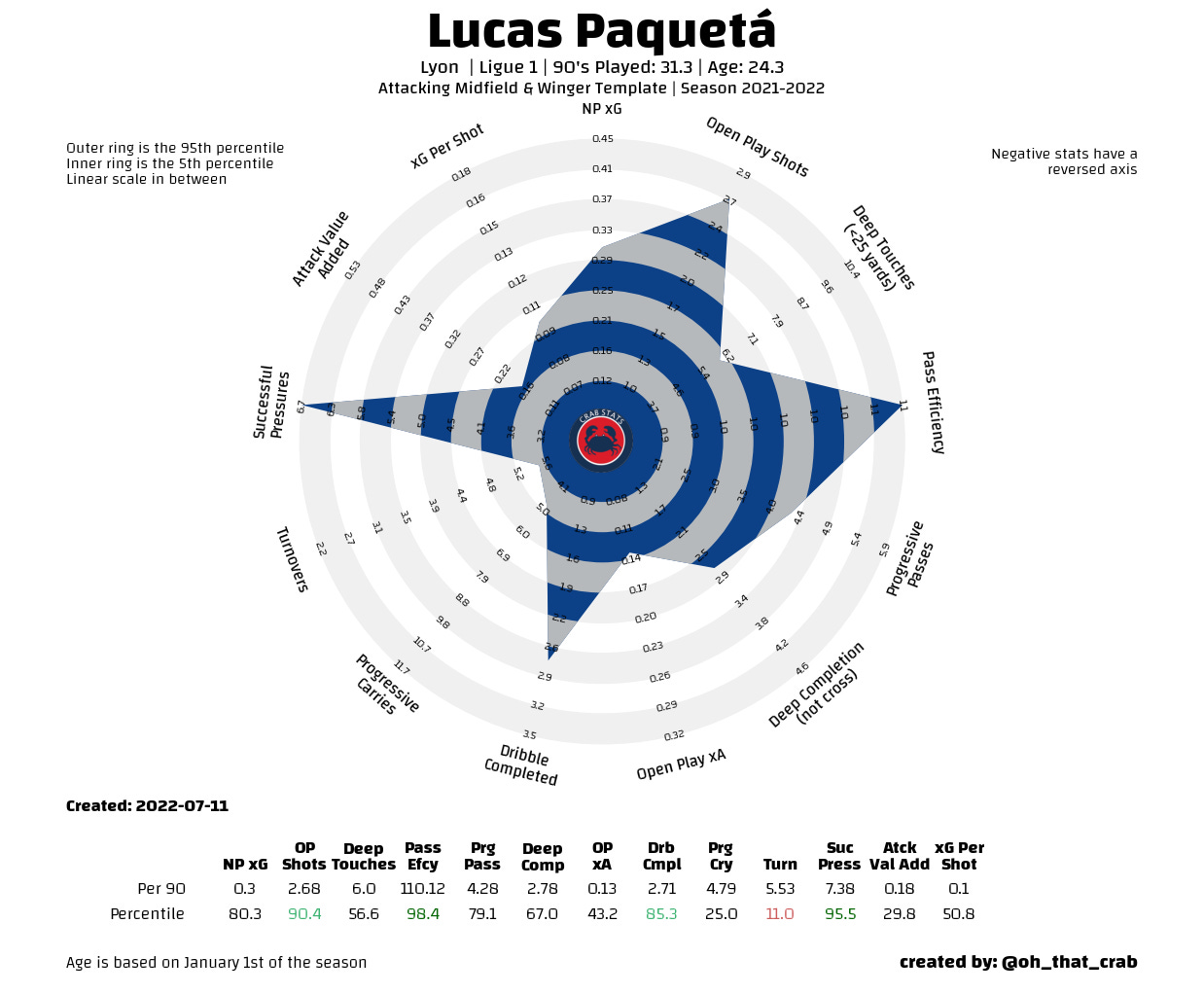 The players are coming back from international duty to London Colony and will leave for the United States on Wednesday. There isn't a ton of new news for Arsenal right now with the real concrete links to players having cooled.
So I think this will be a fun time to just sort of run through the latest dubious transfer links.
Lucas Paqueta
When I look at the Arsenal squad I see Paqueta as a player that is a hybrid midfielder and attacking midfielder. He has played a bit of both but generally played further forward. Given that I think that he would be more a target for attacking midfield depth or the left eight (although he is another left-footer) in the 4-3-3 system rather than as a true midfielder.
Lyon does have this weird history of attacking midfielders that play a bit of midfield and do a fair amount of defensive work but it doesn't always work out when they move to other clubs.
I think Paqueta looks like an interesting player statistically, I am a little weary of the fee currently being floated (80m?) but if this has more legs I will spend some more time getting familiar with him.
Alex Grimaldo
I don't know much about Grimaldo but he does sort of fit the mold for the type of player Arsenal have looked for in the past on the left-hand side. He looks to be a more wingback type with good attacking numbers for a full back but poor attacking numbers as a winger.
He checks the box for pass efficiency (almost all of Arsenal's targets have done this, I do think that this is something that look for in a player as it seems important in a possession-based technical team) but looks a little light defensively.
I don't really have a strong opinion on this one as he is the backup left back.
Edon Zhegrova
What do I know about Zhegrova? Nothing.
What do I think about this rumor? I think it is pretty crazy.
Zhegrova isn't exactly young, he will be at this age 23 season next year which is really not young for a player on the wing. He also hasn't really played a ton of minutes up to this point, even when he was at Basel.
The rumored fee is also beyond well this is a punt type range because it is in excess of 5 million euros. Might as well keep Reiss Nelson over adding this type of player IMO.
N'Golo Kante
This one seems like it is off the charts on the dubious scale.
The source is the Daily Star and that basically means it is conjured from someone's neither region and this really doesn't seem like it fits with the current Arsenal project at all.
The issue with Kante isn't talent, he is still one of the best defensive midfielders in the League but rather his age and availability. He went from a player that was consistently able to give 3,000 league minutes to one that now has played around 1,700 to 2,100 minutes.
This is the big red flag for me and why I think that this doesn't really make sense even if it would fill a potential hole that might be opening up in the squad at the base of midfield.