Discover more from Cannon Stats
Stats and analysis for all things Arsenal from Adam Rae Voge and Scott Willis. Going deep into match analysis, player scouting, transfer business and rumors, squad-building, and general transfer coverage.
Over 4,000 subscribers
Emile Smith Rowe: The Value of Goals
Taking a deep look at Emile Smith Rowe's stats.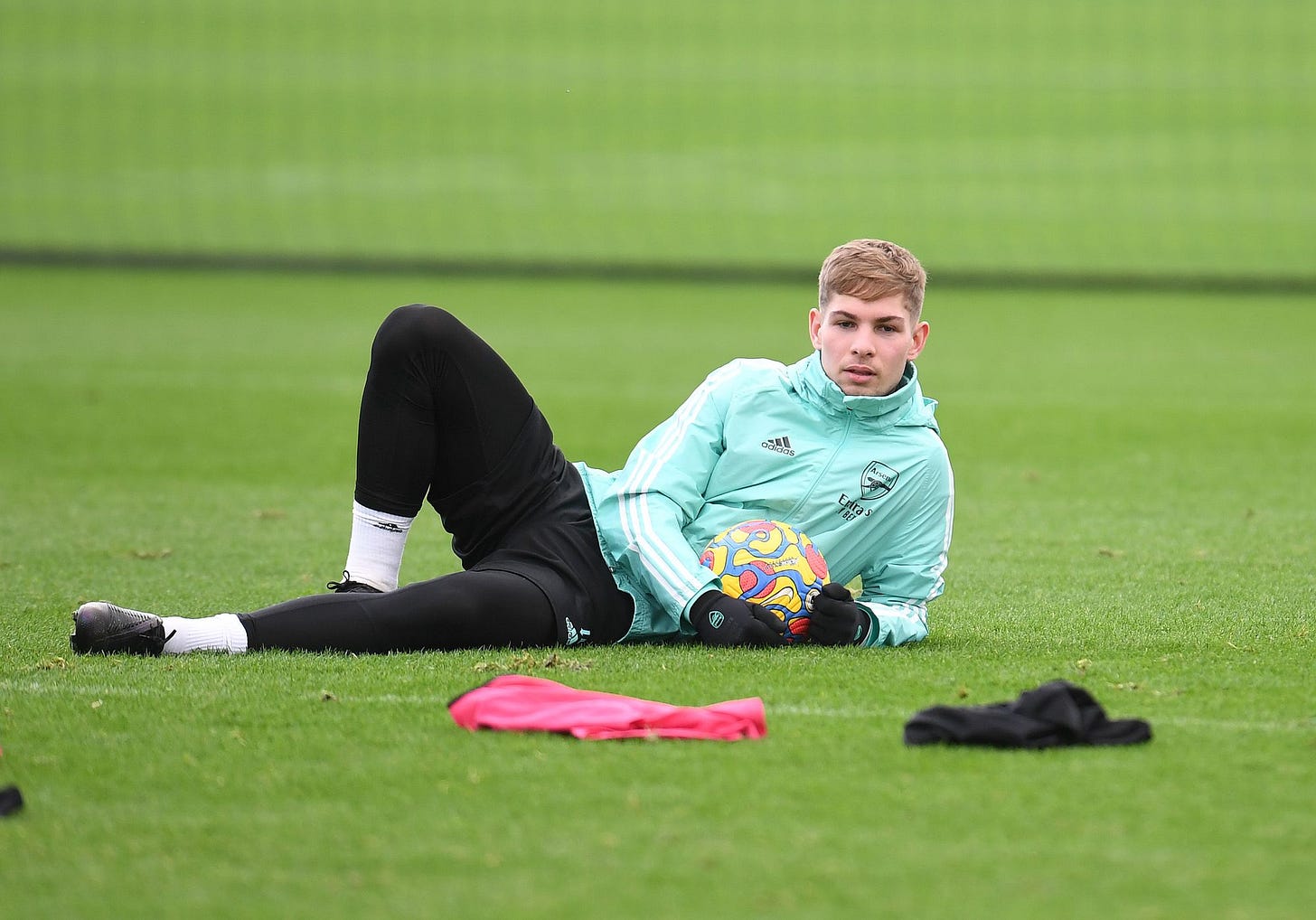 Emile Smith Rowe has been a good and very important player for Arsenal this season but his stats, especially his radar looks just okay. In this post, I will dig into the season so far for Smith Rowe and look a little more about what the stats say (and don't say).
First, if we look at things from a different view at the distribution of his stats compared to peers and you can see in the stats that "really" matter he is in the good sections while staying in the middle for the others.
These "swarm" style charts are very helpful and something that I think adds a lot of information about a player. This style of visualization shows the full distribution of a player compared to their peers. You can get a sense of that from both the radars and crab cake style graphics but these are very explicit in showing where a player fits.
Another of the graphics that I have developed lately to help get over some of the limitations of radars and crab cakes is a more dashboard-style graphic that breaks things down by stat category. I find that these are very helpful at showing the areas that a player really excels at.
Shooting
The area that obviously jumps out, in this case, is Smith Rowe's shooting skill. This is also one of the most important skills for an attacking player. His shooting numbers have been very good (even if there is a lot of air in the finishing- more on this in a minute).
He has found/gotten himself in good positions to shoot often. I love how almost all of his shots are inside the width of the six-yard box.
8 - The number of goals that Emile Smith Rowe has scored for Arsenal this season. He currently leads Arsenal in this tally and is tied for 4th in the Premier League in this tally.
If there is nothing else that comes from this stats deep dive into Smith Rowe, I want you to come away from this that I have been absolutely impressed with his ability to 1) get shots, 2) Create and find space to take good shots, 3) finish those shots. 3 of his 8 goals have been goals that have put Arsenal ahead, with a further 2 extending one-goal leads in two goals leads, with 2 putting two-goal leads into very comfortable range and one last one that turned a four-goal lead into a laugher.
His goals have been incredibly valuable even if the current goal-scoring rate might be unsustainable. His current rate of 0.6 non-penalty goals per 90 puts him in pretty rare company.
So while it is improbable that Smith Rowe will continue to turn 32% of his shots and half of his shots on targets into goals, what he has produced has been very valuable to Arsenal. Even if his numbers regress towards his expected tally (the sample size for the number of shots he has taken is way too small to have much of an opinion on if he is a plus finisher, but basically no one is this plus of a finisher over a long period) he still ranks really high among attacking midfielders.
He isn't quite out as far on the outlier scale as he was with goals but his non-pen xG is still something that rates very high, landing in the 70th percentile.
Overall I think that the trend for what he is doing is moving in the right direction as well.
At the moment, Smith Rowe is taking 1.87 shots per 90, which is up from 0.81 last year. During his time in the Championship, he took 2.14 shots per 90. This 2+ shots per 90 range is where I would love to see Smith Rowe end up, especially if he can continue to maintain something close to his current shot quality. His current numbers, history, and trajectory suggest that this is something that isn't unreasonable (even if we have to wait a season or two for the next jump).
Carrying
Smith Rowe has taken his on-the-ball progression to another level this season.
Last year in 16 90s he had 7 successful dribbles from 29 attempts (24%), this year in 13.4 90s he has had 23 successful dribbles from 36 attempts (64%). He has increased the number of attempts by almost 50% and trebled his success rate. His progressive carry improvement isn't nearly as impressive but he has also improved from 5 per 90 to 6.5 while adding an additional 20 yards of progressive distance per 90.
Passing
One of the not quite disappointing but areas that I hope that he can get better in his passing.
I don't think that it has been bad, just that I think that he can do more with his technical quality to get the ball into dangerous locations. Right now he ranks 5th among Arsenal players in deep completions but I think that he has the skills to be in the same range as Saka and Odegaard.
When he has completed passes within 25 yards of goal it has been primarily close to the box, and I think that this is a reflection of the style of play that he favors. When I watch him he is a player that wants to do these passes quickly, often as a part of combination play, which makes them valuable but I think that in regular play he can do more to create value with his passing.
His passing dashboard shows a lot of where my frustrations come from.
Smith Rowe's passing volume is slightly below average and I think that is something that he can increase. I am okay if it doesn't if he continues to be able to provide value with his shooting and carrying but it is something that should be there for him. Right now he is producing about average value from that below-average volume.
The types of passes that he makes right now skew towards "easier" than the typical attacking midfielder. He is completing his passes at a rate higher than expected but I think that there are a few times per game he can try a higher risk pass rather than recycling possession.
Defensive Actions
Overall on defense, I think Smith Rowe pulls his weight but his current production makes me reconsider if he can be a true "8" in a 4-3-3 type system or if he needs to stay in this sort of hybrid attacking midfielder spot.
He is also not the pressing demon that Gabriel Martinelli is when he plays the left-wing spot. In fact this is one of the areas that Smith Rowe actually looks below average in.
I am not overly concerned about his defense, but I do wonder if there is something in here that helps to explain why he hasn't had the regular playing time of late.
Overall
Smith Rowe has shown growth this season that I did not fully expect. His shooting and carrying have been exceptional, with everything else holding strong at average. That may sound harsh but like I tried to say through this article his excelling at the areas that are pivotal for winning points.
One of the things that I find myself pondering is what if he is tried as the backup to Alexandre Lacazette as the striker that plays more as a 10 but with runs into the box.
His current numbers look really solid in that template but it is not without big questions and something that is probably only an in case of emergency option with him also looking to provide cover all along the attacking positions.
I am very excited about all of Arsenal's young talent but I do think that there could be something especially unique about what Smith Rowe can bring to the table and I am excited to see him develop.