Evaluating Arsenal's summer transfers at the halfway point
Looking back at how the summer signings of 2021 have fared compared to expectations.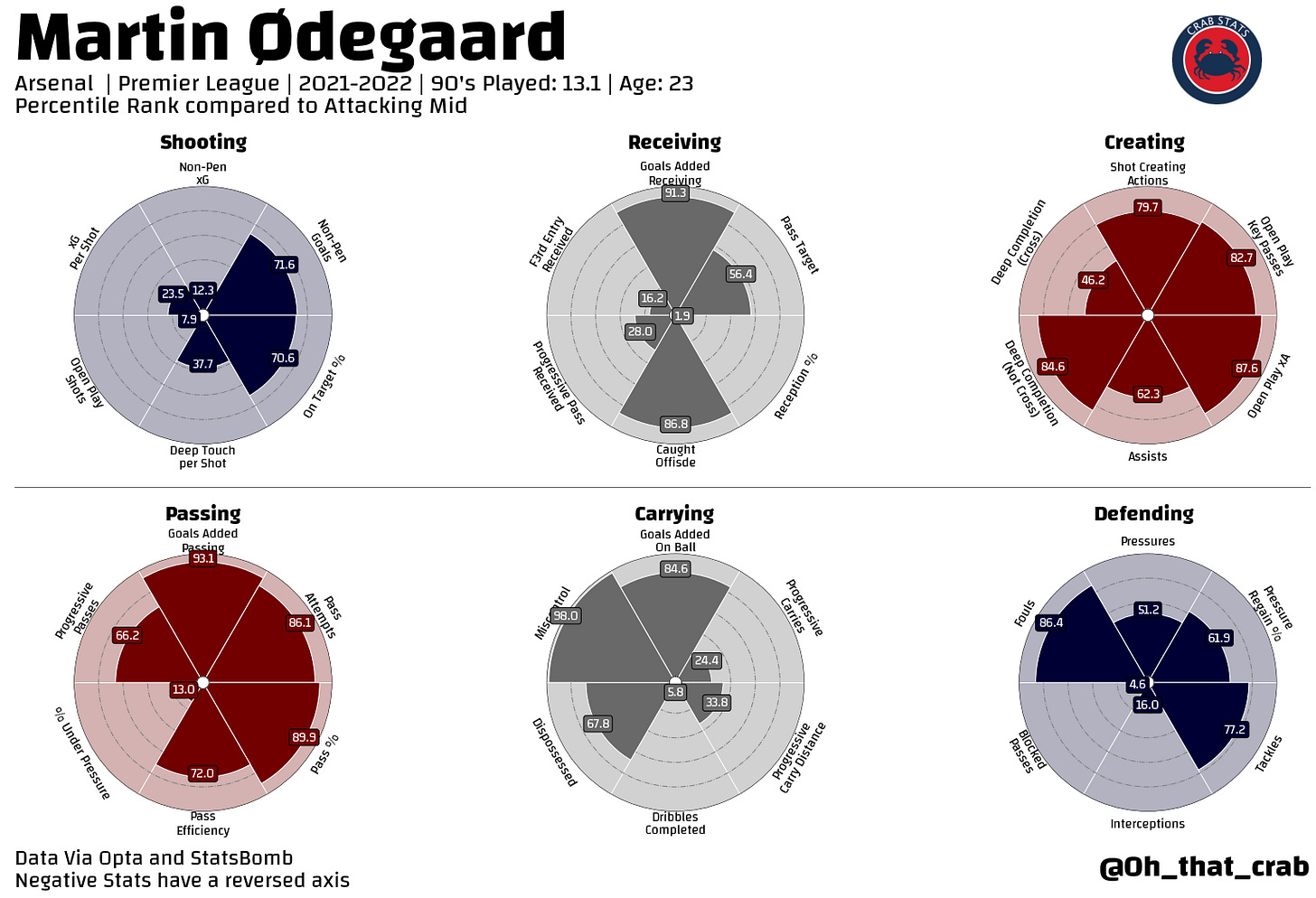 Arsenal's summer spending was big. Arsenal spent over 150 million pounds on transfer fees (the most of any team but probably a bit further down when wages are factored in) on 6 players.
Four of these players (Ben White, Martin Odegaard, Aaron Ramsdale, and Takehiro Tomiyasu) have become regular starters, with the other two becoming key contributors to the first team.
Most have been with the team for going on half the season, with most of these players (especially the starters) having played minutes that moves them beyond small sample size territory making this a good chance to take a look at how they are doing compared to the expectations for when they signed.
Ben White
White was Arsenal's biggest signing of the summer, signing for a fee reported at £52.65 million from Brighton.
This was in my mind the biggest gamble that Arsenal made this summer and one I still wonder about if it was the optimal use of the transfer budget, thankfully this spending did not seem to impact the team's ability to strengthen in any other spots in the summer but perhaps it will in January or perhaps next summer. Hopefully, any money moved forward from future budgets will be offset by increased revenues from getting back into Europe this season.
So what do the numbers show us for Ben White? First let's start with the comparison radars and crab cakes.
I'd say he looks solid by the stats (maybe not the best adjective for a the most expensive signing of the summer but probably fine considering his age and position). By the eyes I would say he has flashed what made Arsenal love him but has also shown rawness to his game.
He is roughly in line with what he produced over the course of last year in his first half season at Arsenal, slightly better at Aerial duels, doing a bit less on the defensive action front (this is probably a team style effect, Arsenal as a team do not engage in a lot of defensive actions), and a slight decline in passing numbers.
Overall I think that he has matched the expectations that I had for him when he signed.
His ability to carry the ball is still his most visible plus skill but one that I think that he still needs to work on refining when he picks his spots. I think his passing has started to improve as Arsenal have settled into a better understanding of how they play out from the back, and his defending has been mostly fine.
Overall I am still not 100 percent positive that this was the best deal for Arsenal given the opportunity cost of what his transfer fee could have done but now that he is here I think that Arsenal have an exciting core of young center backs with White, Gabriel, and William Saliba (hopefully come back next year).
Martin Ødegaard
Keep reading with a 7-day free trial
Subscribe to
Cannon Stats
to keep reading this post and get 7 days of free access to the full post archives.