Discover more from Cannon Stats
Stats and analysis for all things Arsenal from Adam Rae Voge and Scott Willis. Going deep into match analysis, player scouting, transfer business and rumors, squad-building, and general transfer coverage.
Over 4,000 subscribers
Martin Ødegaard: Early Struggles and Improvement
It took some time but Martin Odegaard is showing why Arsenal made him one of the major signings of the summer.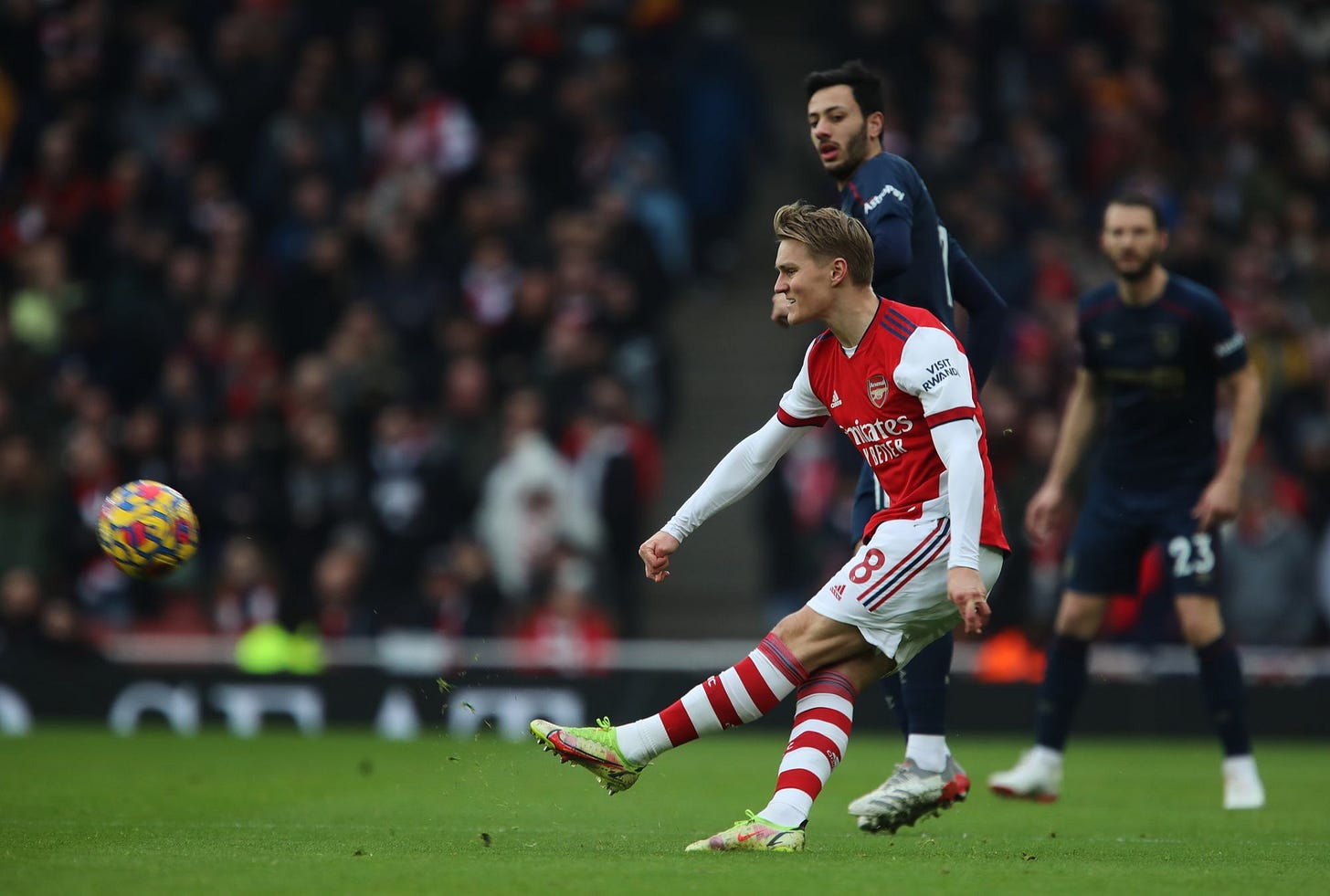 I know that transfer speculation is something that really drives interest and I am as guilty as the next person for following it but I don't always love writing about spending all my time analyzing how this player looks when the odds are that they really won't end with Arsenal.
When players are very close or have signed I will gladly dig into it but most of the time that feels futile. On that front, I felt like I was in a rut with what would be interesting to write about and asked Twitter. I got lots of great ideas that will probably keep me going through the Arsenal break but the first response was really great.
With Odegaard there is a really clear spot to mark this analysis. He came right into the team after signing and started the next 6 matches, he didn't play all that well and played the next 4 as a substitute with Alexandre Lacazette taking his spot in the starting lineup. These first 10 matches will mark the first section that we will call the struggle time.
After those 4 sub appearances, he has started every match and has looked a lot better. These 9 matches will the improvement time.
So the big question is why he has improved and what has changed to allow that.
First, is looking at where he is picking up the ball.
Where he is receiving passes has changed subtly but I think significantly. His average position isn't quite as central on pitch width but it has moved forward.
Looking at touches by third, he has gone from 10 touches per 90 in the defensive third (18% of the total) to 7 (11% of the total). Overall in the improvement matches, he averaged more touches overall (57 vs 62) with a larger portion of those coming in both the middle and attacking thirds.
One of the issues that I think Odegaard had at the beginning of the year was that he was coming too deep, and being too drawn to the ball. Since he has come back into the team, to my eye he has been this less and that has led to him finding himself in better positions to advance the ball more often. This is backed up by his receiving numbers, he has gone from 3.2 progressive passes received to 5.5 and from 3.8 final third entry passes received to 4.5.
Finding himself in better positions has made progressing the ball an easier task for Odegaard.
The increase in deep completions (3.4 to 4.6), progressive passes (3.2 to 4.0), and passes in the box (2.4 to 3.9) isn't quite as dramatic as some of the other stats but I think these raw numbers miss that the quality and threat of these passes has increased.
The deep and progressive passes he is completing are closer to goal and turning into shots at a much higher rate now. His open play key passes have increased from 1.1 to 2.3, with the expected goals of those key passes increasing from 0.05 to 0.38 per 90. His goal probability added has seen similar gains and reflects the added threat he has contributed going from 0.09 to 0.36 per 90.  That is a huge improvement!
The story is similar with his shots as well.
He had taken just one open play shot in the early period, which comes out to 0.16 per 90 and that has increased to him taking 1.46 per 90 in the later period. He has done this with a slight increase in average shot quality as well (still not the strongest because he shoots from distance) and increased his per 90 output from 0.003 (yes I had to go to the hundredths here) to 0.13 per 90 from open play.
Overall he is producing 0.51 xG plus xA from open play right now and while that is below the elite levels, it is still very good and makes him a very important part of this Arsenal team. I am very pleased to see that he has settled into a key role and I am still optimistic that there is more growth in his performances, especially if Arsenal are able to get a more prolific striker for him to get service to.