Discover more from Cannon Stats
Stats and analysis for all things Arsenal from Adam Rae Voge and Scott Willis. Going deep into match analysis, player scouting, transfer business and rumors, squad-building, and general transfer coverage.
Over 4,000 subscribers
North London Derby: Stats Preview
It is time to find out what color North London is, with a lot on the line beyond just bragging rights.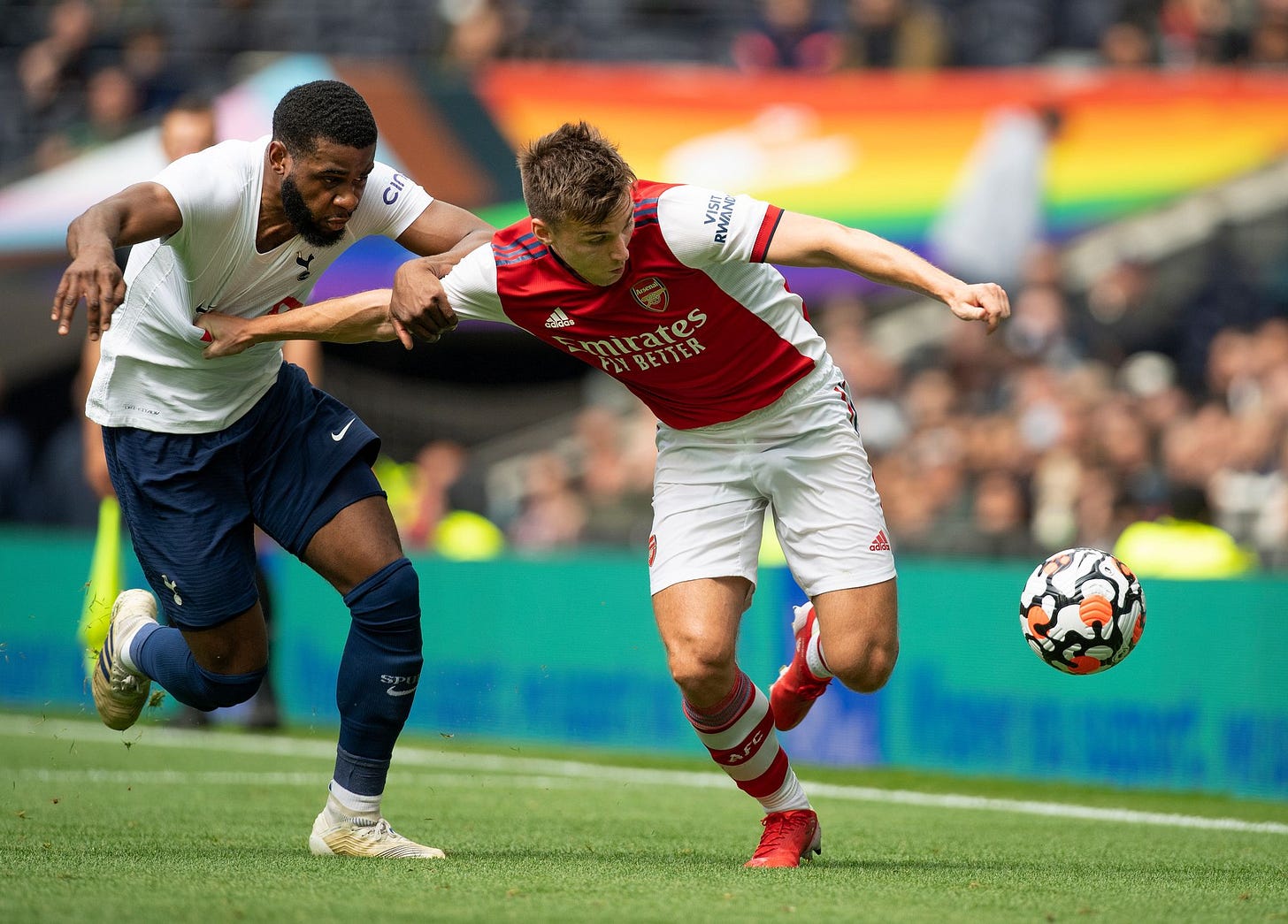 Arsenal have their biggest match of the season (so far) on Sunday with a trip to the Toilet Bowl Stadium.
Up to this point, the Arsenal and Spurs seasons have been pretty close reflections of each other. Both teams got off to a slow start, played pretty poorly and significantly below expectations, before finally finding form close to what they expected from the start of the season.
Both teams are now well established in the tier of teams that are fighting for the last top-four spot.
The change in Spurs performance has been pretty amazing, they had spent a lot of the season playing closer to one of the worst teams in the league rather than one of the best.
Conte took over for Spurs 11th match, that is basically where the chart above turns from red to blue, going from a bad team to a good team. When Conte was brought in this sort of instant transformation was what worried me, Conte is a prickly character who demands a lot from the teams that he coaches, often falling out after short stints but one thing he does is improve results. Spurs have seem their results improve drastically under Conte.
There are certainly some caveats to be made here, over this run Spurs have played the 3rd easiest schedule. They have had 5 home matches and just 3 road matches and have only played one team above 10th place (Liverpool). They have played really well against teams that they should have beat but they have also not seen much in the way of a challenge.
Arsenal's season follows a similar pattern but perhaps with a slightly less obvious narrative trigger to explain why the team the sudden jump in performances. For Arsenal, it would be the dropping of the captain rather than the firing of the coach that looks to have been the catalyst for improvement.
Tottenham Team Radars
The radars above match pretty well with a team that is challenging for a top-four spot. In my team ratings in attack Spurs rank as the 4th best attack and the 4th best defense in the Premier League.
Spurs aren't a massive shot volume team, taking just over 8 shots from open play, but this is something that has rebounded with Conte taking over.
A lot of this gain has been Harry Kane going from looking like a broken striker who couldn't get many shots to a good player again.
Fortunately for Arsenal, it looks like Spurs will be without their best player and leading shot contributor in Son Heung-Min. This season, Spurs have been heavily dependent on shots from just their three forwards.
Taking a step back from the goal, looking at ball progression you can see more input from midfield, but still a heavy dependence on the forward line.
One of the things that jumps out is that Lucas Moura has been a very key player in getting the ball close to the box. Looking at where Spurs are able to create threat from the biggest red boxes are the areas that Moura occupies.
Moura drops a bit looking at the overall goal probability added but this graphic below again illustrates how big the miss of Son will be for this match.
Taking a step further back from goal looking at the buildup play.
Hojbjerg is the key player in midfield but Ben Davies also looks interesting as a player that has become more important as part of the buildup in the back three systems from Conte.
Switching to defense, starting with pressing.
Like Arsenal, Spurs are not a high pressing team according to the metrics. I am not sure that this is something has changed too much with Conte coming in.
Looking at things on a per-week basis I think this shows up, there might be some trend towards fewer passes allowed per defensive action but it could be a reflection of the quality of team because when they faced "good" teams they have not shown as a pressing team.
Looking at where the defensive actions have taken place, again points to a team that does not press high but rather waits for the ball to enter the middle third before actively looking to win the ball.
Spurs Last 5 Matches
Southampton 1-1 Tottenham, Tue, 28-Dec-21
Spurs lined up in a 3-4-2-1 in this match, with Kane supported by Deli Ali and Son. This was not a good performance from Spurs at all, especially when this match was 11 against 11. If Mohammed Salisu had kept his head this might have been a situation where they lost rather than getting a draw (with some xG stat-padding chasing the win).
Watford 0-1 Tottenham, Sat, 01-Jan-22
Spurs lined up in a 3-4-3 in this match, with what I think is their strongest front three of Kane, Son and Moura.
I had a couple take aways from this match, the first was that the refereeing was pretty bad with some missed calls for both teams, and the second being that this was the second straight match that I had watched of Spurs that I thought they played poorly before creating a couple of good chances late that was enough for them to win and to make their xG look good.
Chelsea 2-0 Tottenham, Wed, 05-Jan-22
I didn't watch this match too closely because it was during my working time. This looks like it was close to what Conte believes is his best XI and they were playing in the 3-4-3 formation that he favors.
It would probably be fair to say that this was a beat down. In the first half Chelsea were pure dominance, Spurs could not get the ball out of their own half and were impotent in trying to hit Chelsea on the counter. It took until the 50th minute for them to record their first shot and ended up creating just 5 shots against a Chelsea team that while still strong was pretty heavily rotated.
Tottenham 3-1 Morecambe, Sun, 09-Jan-22
I did not watch this match, but the stats say this was a 5-3-2 (more likely it was a 3-5-2 type shape given their possession). It looks like they dominated possession, gave up a goal from a blown corner kick coverage, and then made some subs with first-team players that were able to create enough chances to win the match.
Tottenham 0-1 Chelsea, Wed, 12-Jan-22
Chelsea scored early (again from a corner, maybe Arsenal get a goal from this as well) and then really cruised after that. Tottenham created a couple of decent chances plus had a few moments where they could get back into it where VAR corrected things. Mostly this looked like Chelsea understanding they were up 3-0 overall and playing with that in mind.
The Top 4 Race Ramifications
This match is huge for the top four race.
This probably isn't breaking news but it is literally the "biggest" and most important match for Arsenal so far this season in terms of what this will mean for trying to make the top four.
Depending on where you look Arsenal's odds are anywhere from 38% to 30% to finish in the Champions League spots this season before the match. My own model is on the pessimistic side for Arsenal and on the more optimistic side for Spurs (I guess that is good evidence that I don't put my thumb on the scale of things) with Arsenal sitting currently at 30%.
Looking at the finishing distributions, Arsenal and Spurs are very close with a lot of overlap. They have also built a bit of a lead over the chasing teams in Manchester United and West Ham.
With an Arsenal win (not assuming any other results from the weekend), my model moves Arsenal from 30% at finishing in the top four to 45%, moving slightly above Spurs as the favorite for the spot. If Spurs win, they solidify their position in the pole position with a 70% chance of finishing in the top four (I think this is too high personally but they would have a point advantage and two games in hand). If there is a draw, that slightly helps Arsenal who go from 30% to 32% but it really helps West Ham who move from 13% to 15% with this and could really move up if they win their match against Leeds.
Match Simulation
Going into the match my numbers are actually on the more pessimistic side and I think that I think that matches pretty well with how I am feeling about things going into the match, especially after seeing the midfielders that Arsenal might have available for this match.
The betting odds have this one at Spurs implied odds at about 40% to win, FiveThirtyEight having the match at 39% in favor of Spurs.
I am writing this before Arsenal play Liverpool and things are very unknown about who will actually be available for Arsenal and I feel like this could change things odds-wise.