Discover more from Cannon Stats
Stats and analysis for all things Arsenal from Adam Rae Voge and Scott Willis. Going deep into match analysis, player scouting, transfer business and rumors, squad-building, and general transfer coverage.
Over 4,000 subscribers
Premier League Simulation: Round 26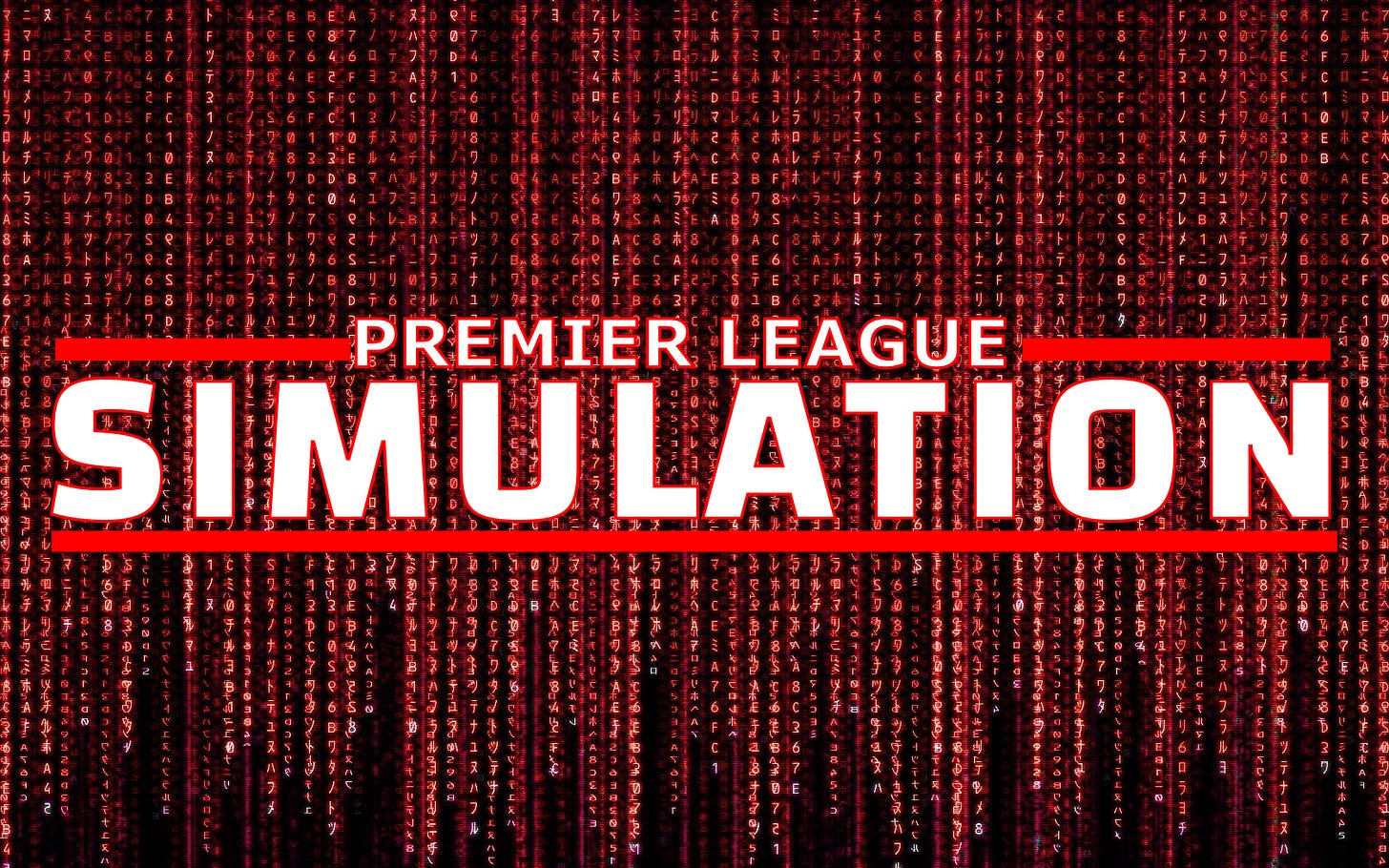 It is round 26 for the Premier League but things are still weird on the table with just four teams having played all 25 of the preceding matches this season. This week doesn't have a big marquee matchup, don't try to tell me Manchester City vs Spurs is a big matchup when that is the match with the second biggest one-sidedness in the simulations, and features quite a few matches that have over 50% for one team.
The early kickoff Saturday makes me curious but not so curious that I will wake up at 4:30 am to watch it. Newcastle has won three in a row, moving out of the relegation zone, West Ham are sitting in 5th and a win could put them at least temporarily into 4th place. I am really curious how Newcastle does without Kieran Trippier who has looked very good for them since joining.
The 7am kickoffs feature Arsenal with a chance to get back at the humiliation that they suffered to start the season hosting Brentford. A London derby with Crystal Palace welcoming "World Champions" Chelsea, a match that I don't know what to expect in Southampton vs Everton, a chance for Aston Villa to bounce back from their rough patch against Watford and rounded out with what might be boring matches featuring teams fighting to avoid relegation.
Saturday is rounded out with City and Spurs. I really hope City destroy them because the interviews from Antonio Conte afterward will be really fun to see. His current routine of constantly reminding everyone that he used to manage big teams that challenged for titles is really good and I would like to see more of that. Tottenham have been a bit of a bogey team for Pep so it would be great to see things be corrected here.
The Sunday matches look more interesting for me. Leeds haven't been nearly as good in the second season post promotion but Manchester United seems constantly on the brink of collapse and maybe they will again here. Things wrap up with one of the League's worst attacks playing one of the worst defenses, in a battle to see what actually wins matches with the Wolves and Foxes facing off.
Arsenal vs Brentford
Arsenal have a run of fixtures where they will be in a great position to accumulate points. It depends on when the postponed matches get rescheduled but Arsenal currently have the following simulated win percentages: 62%, 55%, 59%, 53%, 49%, 48%, 54%, and 47% before they face Manchester United in the middle of April.
It isn't super likely that they would win all of those matches (about 1%) but that run looks like a very good chance to accumulate points. My model projects 14.7 expected points from that run but it does feel like 16 points is very doable from that run and that would help push Arsenal into a very good position to finish in the top 4.
Individual Match Simulated Odds
Season Simulation
Manchester United's midweek win pushed them above Spurs in my latest simulation and cut into Arsenal's chances slightly.
Things are still tight in the top 4 races with lots of overlap in the projected finishes. On the relegation end, Newcastle have opened up a gap between them and Burnley with the race for 18th looking less interesting after those 3 wins in a row.