Discover more from Cannon Stats
Stats and analysis for all things Arsenal from Adam Rae Voge and Scott Willis. Going deep into match analysis, player scouting, transfer business and rumors, squad-building, and general transfer coverage.
Over 4,000 subscribers
Premier League Simulation: Round 28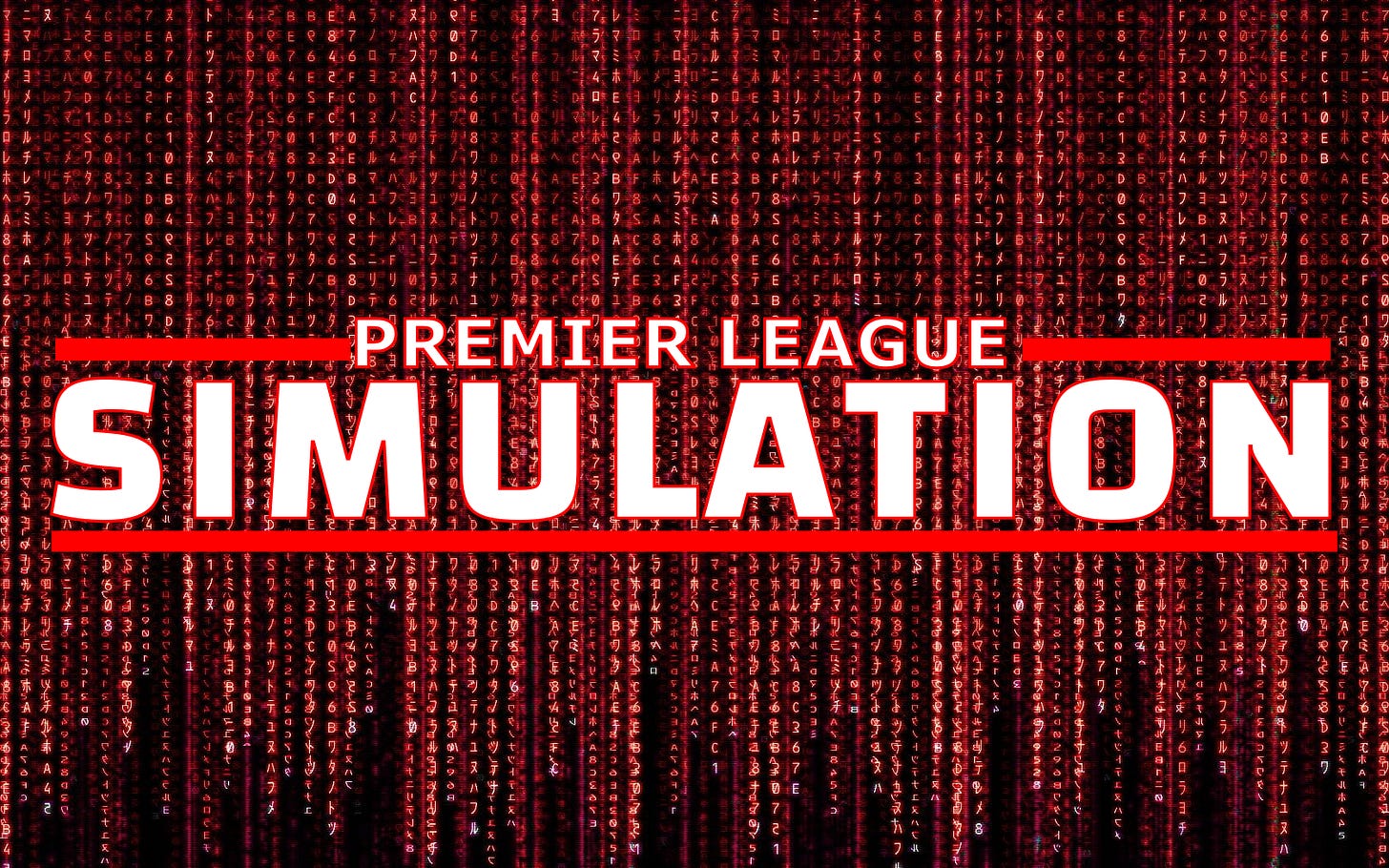 There is another week of Premier League fixtures and this time Arsenal even get to play!
The marquee matchup happens on Sunday with next-door neighbors facing each other. I am of course talking about Watford vs Arsenal whose training grounds are next to each other. Okay with that bad joke out of the way, the true big match of the weekend is the Manchester Derby.
This match will have a lot on the line with a title race that is on the verge of being very much back on for Manchester City and Manchester United still close in the top four race where a win would put them very much in it. Funny enough this match is not close on paper (or an internet screen) with the second most lopsided expected odds of any match.
Saturday starts with two of the worst defenses squaring off (Leeds are ranked 20th, with Leicester ranked 19th) and our first time to see American Jesse Marsch coach a free-falling Leeds United. I really don't know what to expect from this one because I am not sure how fast Leeds can change the way they play.
The 7am (3pm UK) kickoffs on Saturday don't have much for the top-four race but do have some interesting matches with relegation implications. The one I am not interested in and the one I will probably watch is the Norwich vs Brentford match. Brentford have really fallen back from their early performances (1 win in their last 11 league matches, with just 4 points) and now find themselves threatened with a return to the Championship. Norwich are probably relegated but will see this as a match that they could get something out of and if they want a miracle this would be a good place to start.
The Saturday PRIME TIME match is another interesting one with Liverpool and West Ham facing off. This the least close match of the weekend but still feels big because it has ramifications for the title and the top 4/top 6 race.  
Watford vs Arsenal
This will be one of Arsenal's biggest expected points matches for the rest of the season.
That being said it still probably won't be "easy." This Watford team did a perfect bend but don't break performance and rode their luck a bit to do Arsenal a favor against Manchester United last weekend and will try to do the same thing again against Arsenal.
By stats, Watford are not great ranking as the 19th best team, with the 18th rated attack and defense. They have not been better recently ranking 18th over the last 10 weeks, even after playing a generally soft schedule during that run.
Individual Match Simulated Odds
Season Simulation
The title race is on the edge with a slip from either team probably being enough to swing things wildly. Both teams have potential matches that could trip them up this weekend.
The top-4 race still has Arsenal in the pole position, with a 4 point expected lead over Spurs and 7 points over Manchester United. Dropped points wouldn't kill Arsenal but if it was this weekend against a team that they have big expected points it would open things up a lot.
Leeds have made the relegation fight less open, losing 5 of their last 6 last matches, with a massive hole in goal difference also working against them in tie-break scenarios.