Discover more from Cannon Stats
Stats and analysis for all things Arsenal from Adam Rae Voge and Scott Willis. Going deep into match analysis, player scouting, transfer business and rumors, squad-building, and general transfer coverage.
Over 4,000 subscribers
Premier League Simulation: Round 29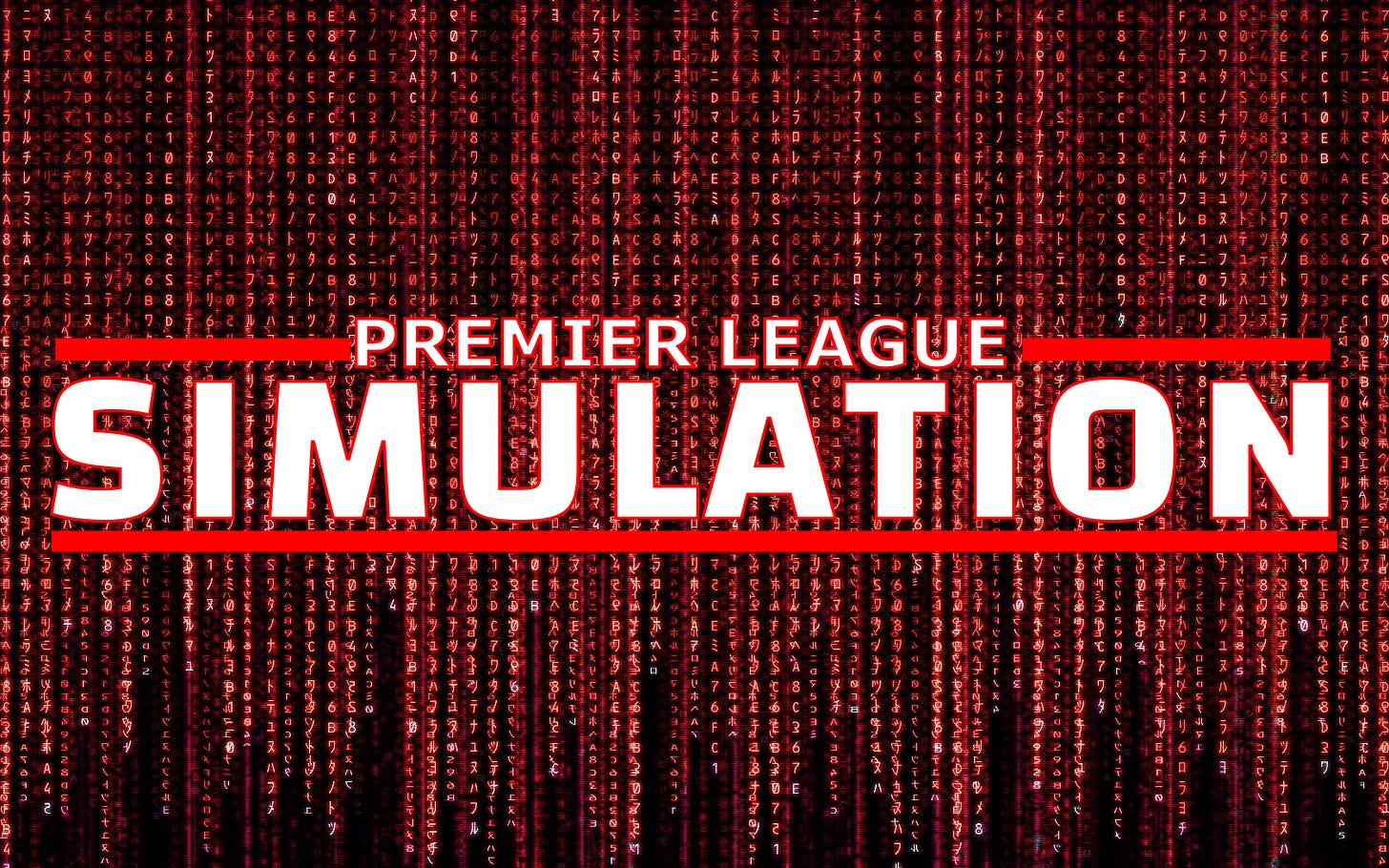 We are at the 10 full matchweek remaining mark. With the makeup matches Thursday we are also at the point that at least half the teams have now hit 28 matches played and a little less difference in matches played. That will get a little better next week too with some more midweek matches played.
It is a weird weekend with just three Saturday matches due to teams playing makeup matches Thursday and Europa League.
The big match Saturday is Manchester United vs Tottenham.
This one is not only big for the two teams involved but will have some big ramifications for Arsenal's top four odds. A United win is the best outcome for Arsenal (66% to finish in top 4), but a draw would be pretty good as well (65%), a Spurs win would be the worst (59%) but at least would pretty much end United as a top-four contender dropping under 5%.
Sunday is full of kind of lopsided matches but does have some matches that will be big in the relegation fight. Everton are in an almost must-win match against Wolves, with Leeds in the same situation against Norwich.
Arsenal vs Leicester City
Arsenal face Leicester and start what will be a tough week with 3 matches in 6 days. The matches against Leicester and Aston Villa are winnable and sandwich a very tough match at home to Liverpool. Arsenal are expected to pickup 4.3 points from these matches and I think I would be very happy with 5 or more points from these matches, with 4 being fine but maybe a little disappointing given the recent form.
Leicester are a team with a good attack (7th) but an atrocious defense (18th).
I could see this being a tough match for Arsenal, even with Leicester not quite at the levels they have been in recent years. They still have potent attacking talent (even with Vardy out) that could feast on any mistakes that Arsenal make in this match.
Individual Match Simulated Odds
Season Simulation
New graphics here! I wrote up about the changes and hope you all like them
This weekend could see some movement in both the top four and the relegation battles, but for right now everything remains very tight.