Discover more from Cannon Stats
Stats and analysis for all things Arsenal from Adam Rae Voge and Scott Willis. Going deep into match analysis, player scouting, transfer business and rumors, squad-building, and general transfer coverage.
Over 4,000 subscribers
Premier League Simulation: Round 30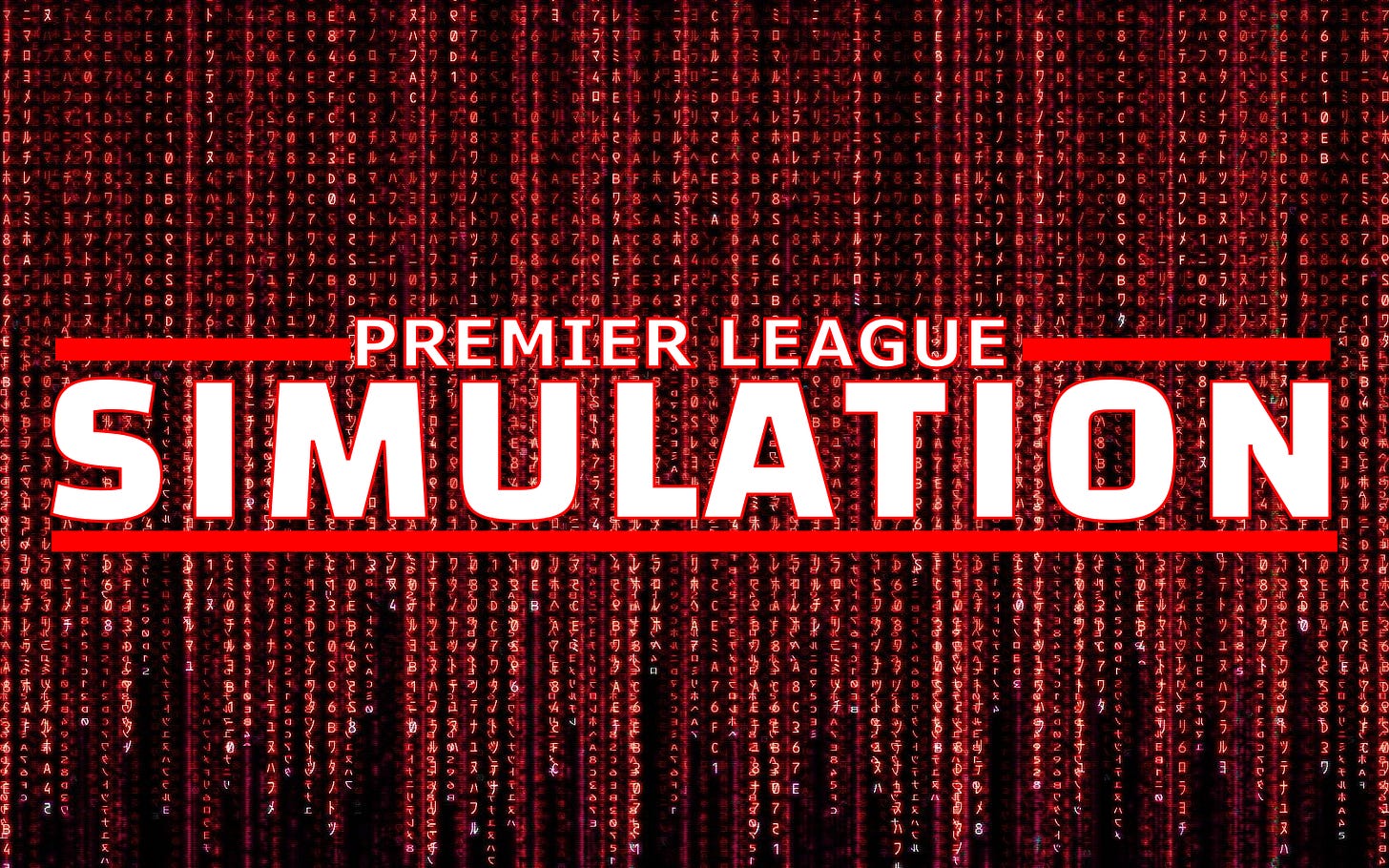 This isn't a matchweek with a lot of matches because it is also up against the FA Cup.
There are still a couple of matches of interest. The match today between Everton and Newcastle will be big for the relegation fight. Newcastle's performance under Eddie Howe has been good and has seen them basically move out of danger, but one of the teams that has fallen into the danger zone is Everton.
Everton are currently holding on to 17th place in my simulation and getting some points from this match will be key if they want to play another season in the Premier League. With their financial situation going from iffy to potential disaster with the loss of Alisher Usmonov's sponsorships, relegation could be devastating.  
The other match that will be of interest to Arsenal is the head-to-head matchup of two rivals chasing them for the top-four. With Spurs winning yesterday in combination with Arsenal losing the top-four race has cracked open, another win for Tottenham and it will be uncomfortably close.
Aston Villa vs Arsenal
Arsenal have a huge match on a fast turnaround.
From here on out for Arsenal there aren't really any "easy" games and it will be very important that they can pick up some points from these tricky away matches.
I still think 18 points from the remaining schedule would put Arsenal in a great place and getting 3 points here would be a great first step and on reflection would be a great haul for the week that had 3 matches in 7 days.
Individual Match Simulated Odds
Season Simulation
The title race is back on!
Things have really moved fast on that, it went from close like this in December to City pulling away to a near certainty, to now back to an almost tie. The match between the two at the Ethiad is going to be incredibly high stakes.
The top-four race still has Arsenal in the driver's seat but that can change just as fast depending on the results this weekend. Lots of twists and turns to go.