Discover more from Cannon Stats
Stats and analysis for all things Arsenal from Adam Rae Voge and Scott Willis. Going deep into match analysis, player scouting, transfer business and rumors, squad-building, and general transfer coverage.
Over 4,000 subscribers
Projecting the goal totals Arsenal's Front Line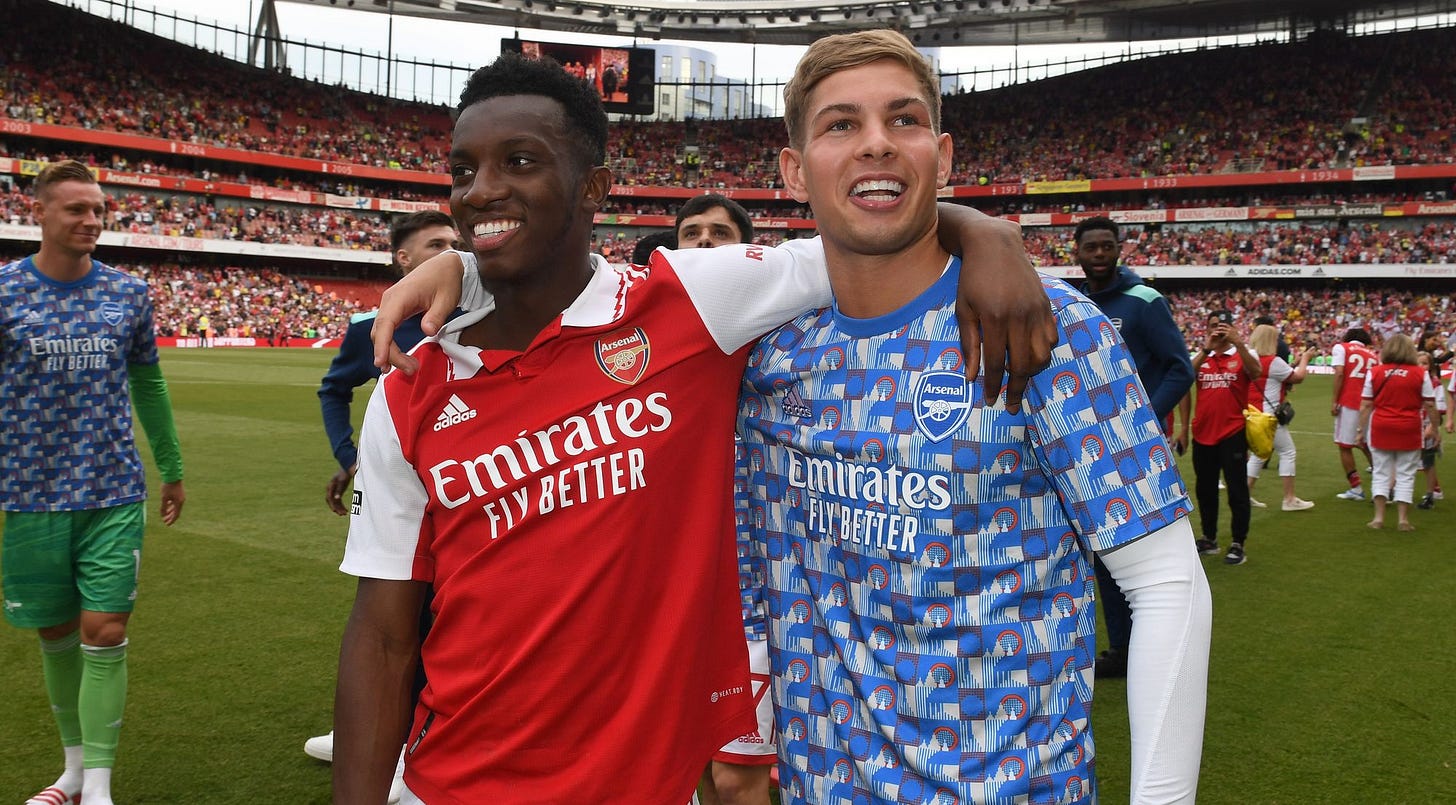 It is a bit of a grab bag type newsletter today as the news front for Arsenal and my personal schedule has limited some of my usual output. So today I will use my new simple projection tool to look at what sort of goals totals we might expect from Arsenal's forwards and attacking midfielders this season.
Projecting the goal tallies
The first place to start is with a short bit on what precisely this projection system I will use, this is a simple system that uses historical data and regresses towards league average with a small age adjustment.
Let's start with the strikers
One of the hard things on this is project minutes played especially for players moving teams or changing roles like we have here. I will make an executive decision here and say that they will share most of the minutes with a bit over lap between them where they have 45 90s, with Jesus getting about 70% of the minutes and Nketiah taking the other 30%.
With these numbers plugged in that gives 13 non-penalty goals for Jesus and 5 non-penalty goals for Nketiah.
That might feel underwhelming but the 18 combined goals surpass the 11 that Arsenal's strikers got last season.
The attacking midfielders are going to be a bit tougher because I don't think Arsenal's business is done here and one of the new players (Vieira doesn't currently work with my system because it is top five leagues only)
For Arsenal's attacking midfielders I did a similar type of guestimating at actual minutes but this was pretty close to the projections for the players (I also included Nicolas Pepe because well he will be a good stand-in for an attacking midfielder that Arteta actually trusts to play).
I gave Saka 30.4 90s, Odegaard 28.5, Smith-Rowe 24.7, Martinelli 24.7, and the 5th attacking midfielder currently being represented by Pepe 15.2.
Overall for the non-penalty goals I have the following: Saka 7, Odegaard 6, Smith-Rowe 8, Martinelli 7, and the 5th attacking midfielder currently being represented by Pepe 4.
That is 31 total non-penalty goals from these guys, that would be one less than they scored last season.
Raphinha Thoughts
It looks like Arsenal's position for Raphinha has changed drastically from the start of the week where the agreement looked imminent. It looked so close I felt comfortable going with the full stats scouting write-up.
It is a little disappointing to see a transfer target fall through like this but this isn't exactly one that I am overly hurt about.
I think Raphinha is a good but NOT elite talent as an attacking midfielder. He would have been a player that made Arsenal better certainly but I also don't think that he was being brought in to be "THE GUY" for Arsenal's attacking midfield, rather I think he would have been more of a 1B type player.
1B for me means a player that is an important first-team player but also not the nailed-on every-match starter. I would have penciled him in for probably 20 or so 90s in the League with a good portion of that coming from the bench. So in this context, it did seem like a bit of a luxury to go to the fee that was rumored for a player that didn't look to go straight into the starting eleven for Arsenal.
I also don't think that this ends Arsenal's pursuit of this type of player but it does probably mean that this will be something that comes later in the window as the team sees what the end of the transfer window shakes loose.
I did go through and write up what my stats rating tool said might be good alternatives.
Alright I think that is good for today,  for those with a long weekend enjoy!