Discover more from Cannon Stats
Stats and analysis for all things Arsenal from Adam Rae Voge and Scott Willis. Going deep into match analysis, player scouting, transfer business and rumors, squad-building, and general transfer coverage.
Over 4,000 subscribers
Should Arsenal Sell Emi Martinez?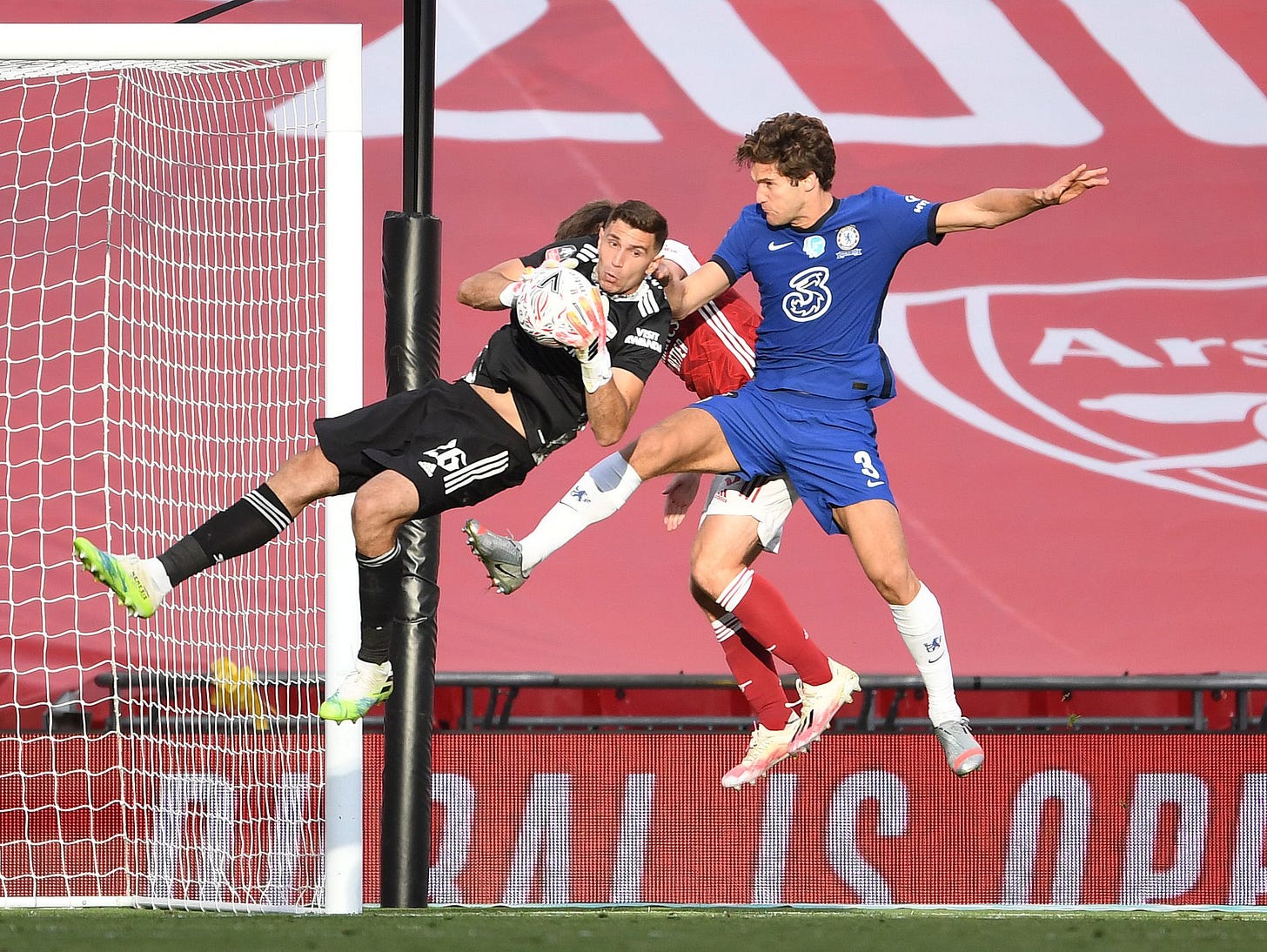 The nexus for this post has been things swirling around Emi Martinez and his role and future with Arsenal.
I was incredibly impressed with his stint as the first team goal keeper but I am not sure I am fully convinced about him.
On twitter I asked what people thought would be a reasonable fee for Martinez.
The results match fairly close to what I expect, but maybe a little higher than what I would consider his true market value. My thought is that 15 million would be pretty close to my reserve price, with 20 million around the opening asking fee.
Part of this is could be that I think that Sheffield United's purchase of Aaron Ramsdale has really effected my frame on what the potential value is for goal keepers, anchoring my expectations much higher than might be reasonable.
On that, I think Ramsdale is a pretty big overpay. The fee puts him in the top 15 most valuable goal keeper transfers of all time. I am not fully sure how to evaluate a goalkeeper using the statistics that are available to us but this really seems like buying really high on a keeper that looks fairly close to average to maybe slightly below.
Martinez was good during his stint as the starting goal keeper for Arsenal. That however is a prety small sample size of just over 800 minutes. His time in the Europa League wasn't nearly as impressive which really makes me worry that this was just a really purple patch of good form.
As much as I would love to have Martinez stay at the club, it doesn't make a ton of sense from trying to mazimize the resources prespective. Keeping valuable players as backups is hard to justify in most positions but it is even harder to justify at goal keeper.
Goal keeper is a position where the risk of injury and fatigue necassitating that the back up starts is the lowest on the field. Last season 40% of Premier League clubs had the same keeper start all their matches, 65% started at least 35 of the 38 matches and 90% started at least 25 matches.
This doesn't mean that you don't have contingency plan, but it also means that the risk of actually having to use the backup is low for most teams. I don't think that things are any higher than normal for Arsenal either. Bernd Leno has been a very healthy goalkeeper and looks to be fully fit again, during his career he has played 97%, 94%, 100%, 100%, 97%, 100%, 97%, 83% (first season with Arsenal where Cech started as first choice) and 78% of the available league minutes.
All of this points me to saying "thank you for your service Emi but we are going to be looking for a new club for you."
I'd love to have him stay but given the limited finacial resources (by all reports at least) it is incredibly hard to justify keeping a player that could generate a pretty large tranfer fee while being replaced at a much lower cost. His transfer fee isn't likely to turn directly into another player but it is in the range that could help Arsenal up the caliber level of player that they are shopping for.