Discover more from Cannon Stats
Stats and analysis for all things Arsenal from Adam Rae Voge and Scott Willis. Going deep into match analysis, player scouting, transfer business and rumors, squad-building, and general transfer coverage.
Over 4,000 subscribers
Stats Scouting: Arthur
Checking how Arthur looks as a potential fit in Arsenal's midfield.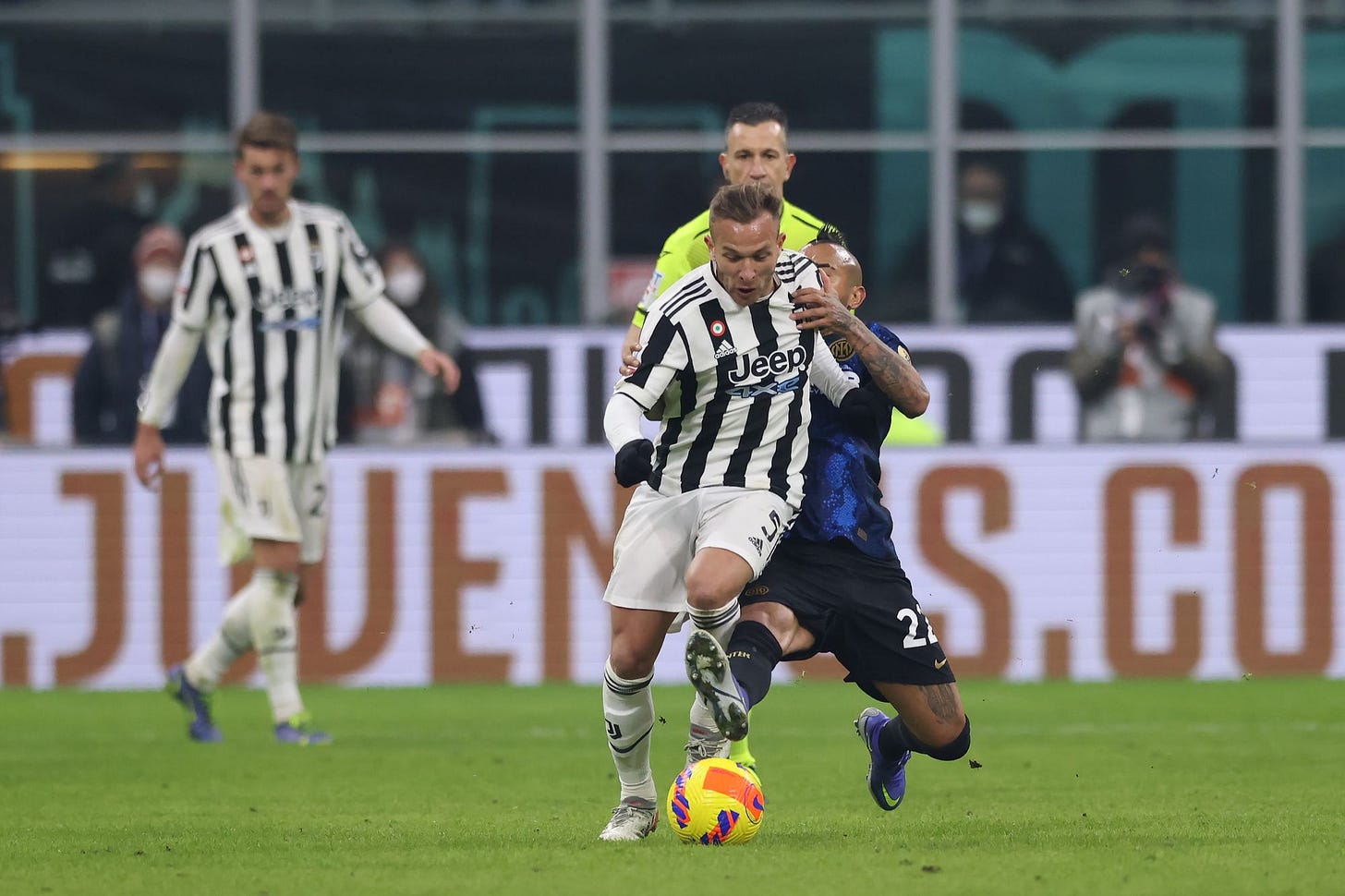 A lot of the current Arsenal rumors are revolving around Dusan Vlhaovic and while I would like to spend more time digging into that I will wait until that is a bit more solid. Instead, I want to look at what is a more pressing issue, an emergency loan signing of a midfielder.
I have already written about how being in this situation exposed some poor planning so I won't retread over that.
Arsenal have been linked with a number of players (including some I looked at in my rating system as players that poped) but the one that seems to be the most realistic right now is Arthur from Juventus.
I have had a passing curiosity in Arthur since he was part of the weird transfer profit shenanigans where Barcelona and Juventus did a swap with Miralem Pjanic at fees that were pretty out of whack. I thought it was bizarre mostly because Arthur seemed like a good promising player that Barcelona were giving up on too early. Since making the move Arthur has continued to struggle with injury and getting consistent playing time.
This season he has spent a lot of time recovering from surgery and generally been low on the depth chart, so he has made just four appearances. With that few of minutes, I am going to pretty much disregard this season's stats and look instead to the season's before. This is what the stats look like but it comes with a big "SMALL SAMPLE SIZE" warning label.
What interests me more is how he looked for the previous seasons.
Looking at this, I see a player that looks solid to above average. The next stats dashboard is something that was originally designed for looking at attacking players so it isn't perfect for a midfielder (something I would like to spend more time thinking about and I am open for updates tweaks if anyone has any suggestions) but I think does help highlight areas that he is good in.
Let's go through each general category here.
Passing and Ball Progression
Arthur's passing is his strongest skill looking at things on the chart above.
I would describe his general profile as "safe" but very effective. He is a high-volume passer, generally plays passes that will be completed at a high rate, and does so better than you would expect. Overall, he is among the most efficient passers in my database of passers.
He might be classified as "safe" but at least he can claim to be one of the best safe passers. His passing graphic shows lots of these sideways passes but given his high volume he also is able to produce a fair amount of value from his passing as well.
On progressive passing, he comes in just under 4 per 90 on my measurements.
Compared to the current Arsenal team that would rate about even with what Thomas Partey is doing for Arsenal but behind Granit Xhaka.
On final third entry passing, he again looks good.
Overall, I think his passing profile matches pretty well with what Arsenal does and wants from a midfielder. It isn't crazy dissimilar to Granit Xhaka (minutes that they use different feet) and he seems to be a better/more valuable passer than Mohamed Elneny.
Carrying
Arthur seems to be good on the ball. He looks to carry the ball forward often, he will attempt to beat a man, all while not losing the ball at a high rate.
The progressive carries and dribbles show to me that he is a player that will look to beat a man all over the pitch and he has the confidence to try a dribble even in locations that could be dangerous if it doesn't come off.
In the 2020/2021 season, he dribbled a lot, but it was actually down from his last season at Barcelona where he dribbled A LOT.
On turnovers (this is miscontrolled touches and times dispossessed) he is right in the middle of the heart of the distribution. You might want a bit less from a midfielder but this looks like a solid trade-off to make for a player that tries things with the ball at his feet.
Creativity
I don't think that being a creative hub has been one of Arthur's main roles but I would say that he seems to be fine as a more secondary creator with a lot coming still from his role more as a player that links rather than actually creates.
His deep completions look to have been starting from further away from the goal and the passes are primarily into the zone 14 areas than into the box.  
His per 90 stats rank pretty well compared to other midfielders, so he may not do a lot but seems to do more than enough given what Arsenal would be looking for in midfield.
His shot assists look to be along a similar line. They are not passes into great scoring locations but rather passes that looked like they often turned into shots.
Taking a wider net of creativity looking at his shot-creating actions and again he looks perfectly fine for what he would provide but not exactly a strength of his.
Defense
On defense, I wouldn't go too far beyond saying that he looks fine. He isn't a defensive midfielder and that isn't the reason that he is on the pitch. He will do defensive actions but it isn't his main strength.
He is on the lower end of tackles, even adjusted for possession.
He looks more likely to try an interception.
How interceptions and tackles would change with a move to Arsenal would be interesting. Arsenal are not a team that intercepts often, favoring tackles as the method to win the ball back.
Looking at his pressures, he doesn't do a lot (it could be a tactical thing) but when he does look to pressure the ball he is successful at a good rate.
Overall and Final Thoughts
Given Arsenal's midfield position it is important to have more players available to the team to fill out the numbers. He isn't a Granit Xhaka replacement but I don't think that there was ever a realistic chance that the team would be able to find that in the January transfer window.
My other requirement for this type of move was that he would be a better player than Mohamed Elneny and one that we would not dread to see on the team sheet. Thankfully I think he clears that bar while playing in a similar way.
I also don't think that this is a move that would tie Arsenal's hands (even if he were to stay permanently) and cause issues in the squad. I anticipate that Arsenal will have European football again next season and will need additional depth to cover the additional matches that comes with that. Arthur, or another player like him, would be perfect for that.
Arsenal have made worse emergency loan-type deals than this, and I really don't see a lot of downside to making this move for Arsenal.