Discover more from Cannon Stats
Stats and analysis for all things Arsenal from Adam Rae Voge and Scott Willis. Going deep into match analysis, player scouting, transfer business and rumors, squad-building, and general transfer coverage.
Over 4,000 subscribers
The Aubameyang situation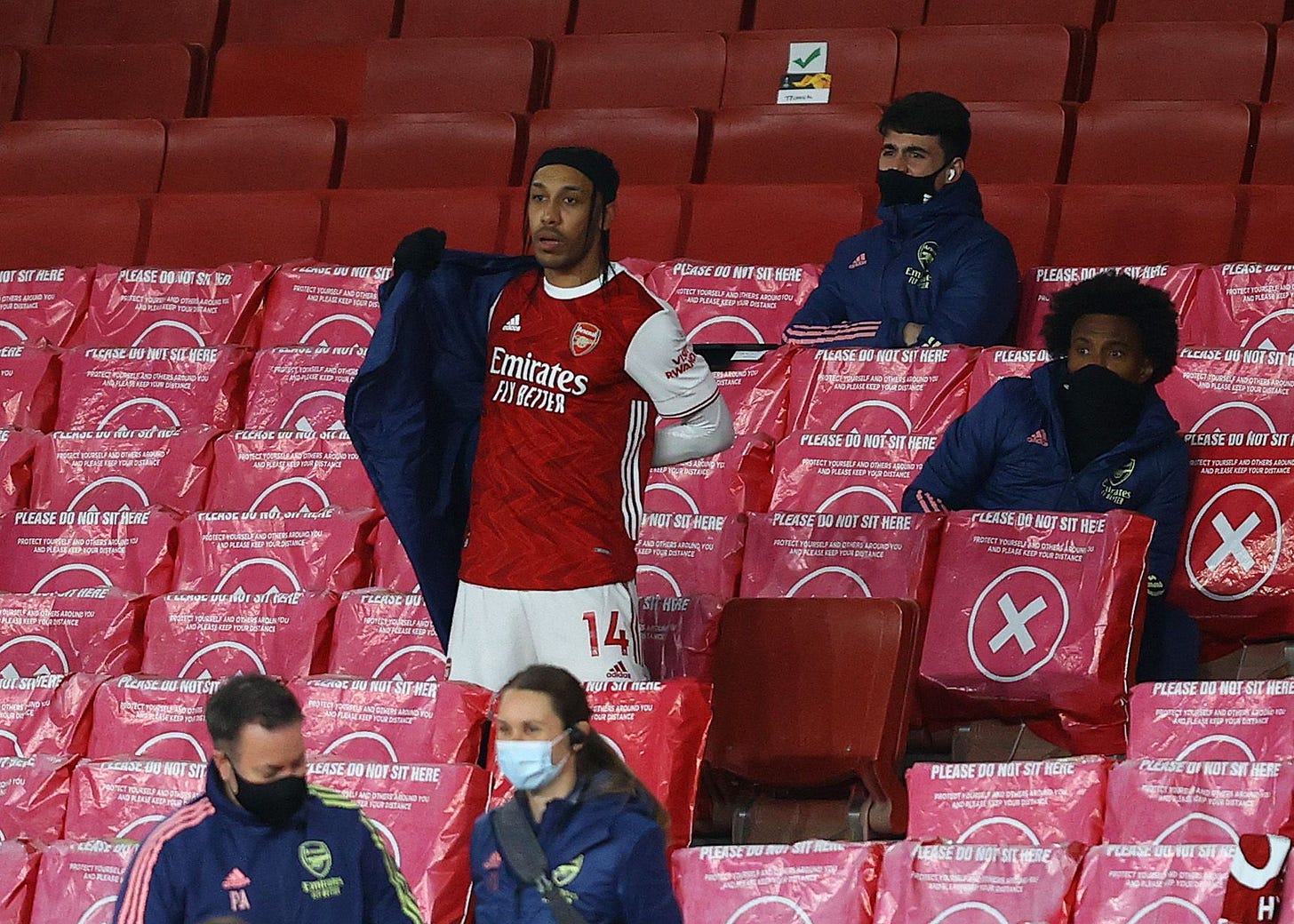 Today on twitter (how many bad things start with this?) Elliot had a very good thread on Arsenal, Aubameyang and Arteta.
I was okay with the decision to extend Aubameyang last summer (even with hindsight there was a reported 1 year extension on his deal that could have been triggered) but a lot of that was with the understanding that if Arsenal would do that it would be to make him the main focus of the attack.
It has always been crazy to me that Arsenal went out and bought one of the best strikers in the world and decided the best course of action was to play him on the left. It has kind of worked with him on the left but there has still been a major drop off in his production. Some of this was papered over with hot finishing (not something he was known for) and this season he has come back to finishing at roughly the same rate as his expected goals.
What is most frustrating about all of this is how this has reflected on Arsenal's squad building. When they had paid the transfer fee to bring him in they had recently also just spent a ton of money on Alexandre Lacazette who wants to play in the same position. This has lead to Arsenal being forced to play one of the two out of position or leave one on the bench, that's not good for a team that doesn't have unlimited money to stock a team full of big money players at every position.
When Arsenal signed him to the extension I thought that was them making the decision to nail their colors to the mast of Aubameyang as the focal point.
That has not been the case with Lacazette not leaving this summer, it was probably a combination of not getting bids close to their valuation of him but also I imagine that Arteta didn't want to lose him. This seemed short sighted at the time where Arsenal have this tendancy to hold on to players for far too long and seems worse now.
It also asks big questions about what was the plan here, why was the club investing a huge portion of their wage budget into a player without a clear vision to get the most out of him. This is a reoccuring pattern with Arsenal, they did something very similar with Mesut Ozil, they broke their transfer record on Nicolas Pepe only to bring in Willian the following summer in the same position, they have completly bungled the William Saliba situation, and slightly different but still showing a lack of clear planning was the willingness to pay Thomas Partey's full release clause but waiting until deadline day meaning he got no pre-season with the team and missed the beginning of the season.
A lot of this isn't about any one thing but instead just little bits of things that all show a clear lack of vision and planning for what the leadership wants from this team. I am very worried about what will happen with the summer for Arsenal.