Discover more from Cannon Stats
Stats and analysis for all things Arsenal from Adam Rae Voge and Scott Willis. Going deep into match analysis, player scouting, transfer business and rumors, squad-building, and general transfer coverage.
Over 4,000 subscribers
The cost benefit analysis of sacking Unai Emery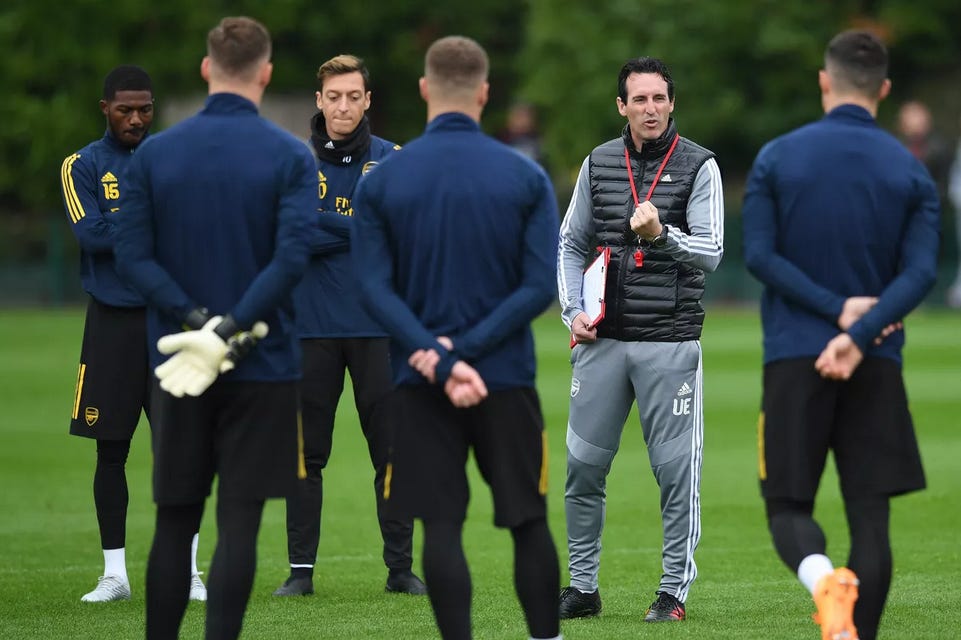 After a miserable loss to newly promoted Sheffield United, the rumblings from Arsenal fans are growing to sack Unai Emery.
This sentiment has been growing for a while now. Arsenal have displayed generally mediocre performances this season, and when you add in the collapse at the end of last season and the capitulation in the Europa League final, the trend for the team just looks worse.
So the big question is does it make sense to sack Unai Emery now, or to play out the rest of the season, and then use the off season to get a new coach in. My preference, rooted in my desire to watch another 40+ matches over the next the next seven months, is to bring in someone new who will give the fans some more entertaining football to watch - but what makes financial sense?
To find out, let's put on our corporate hats and do some cost benefit analysis,  which sounds super-corporate and dry but is really the next step after focusing on net spend and the Premier League spending rules.
First, we need to figure out the cost of removing Emery. This isn't the easiest thing to figure out, with the details of his contract not being out in the open, but according to the ever-reliable David Ornstein, there is no option for next season, meaning Emery is under contract through the 2020/21 season. Emery is reportedly earning £6 million a year, and assuming his contract ends on June 30, that would leave around £4.5 million due this year with an additional £6 for next season, for a total of £10.5 million (assuming there's not a buyout clause that would reduce this total cost).
There is also the matter of his staff, if Emery goes that would also likely see many of them also leave with Emery. We don't know what his staff makes, really, but for the purposes of this exercise, let's assume that they will be due half of what Emery gets, in total, for an additional £5 million.
That puts the estimated cost of sacking Emery of around £15.5 million.
There is also then the decision of bringing in a new coach or going with someone internal (I think this is more likely) to stay on as a caretaker until the summer. This is spitballing numbers, but we can assume if Fredie Ljungberg gets the job, he's also going to get a raise for taking the big job. He'll probably earn somewhere in the low seven figures - I doubt they'd pay him Emery-level wages as an interim, but his Arsenal pedigree is worth something.
Additional coaches and backroom people will be needed to replace the ones that left, so let's add an additional £5 million. There would be additional costs in the summer for a new coach but the new salaries would probably stay in line with what Emery makes, perhaps a bit higher if Arsenal were to land a really high profile coach so lets say commit an additional £8-10 million in the summer.
The important thing to remember is that the cost of Unai Emery and his staff is sunk. Arsenal are spending that money, regardless of what they decide to do. So for evaluating the decision to sack or not, the only additional costs would be the caretaker staff and then the new coaching team that would come in. So the value we are going to use for this analysis is £15 million, because that is the estimated marginal cost to Arsenal if they were to sack Unai Emery.
Next we need to think about the benefits side of the ledger.
The biggest question is the Champions League. Right now FiveThirtyEight gives Arsenal a 34% chance of finishing in the top 4 and earning their way into the Champions League. Figuring out the exact money that's worth is impossible because it depends on performance, but the expected case might be something like £65 million for finishing 4th and getting out of the group stage.
There is also the Europa League money to factor in. Right now, Arsenal have a 37% chance of finishing in the 5th through 7th spots according to FiveThirtyEight. Going into the Europa League isn't nearly as valuable as the Champions League, but it is still worth £35 million for a club like Arsenal, who should realistically expect to be around the semi-final of the competition.
Using these values, Arsenal currently have expected prize money from Europe for next season of about £35 million (0.34 * £65 million + 0.37 * £35 million). For simplicity I am not going to include the merit payments that come with finishing in different positions in the Premier League because in the grand scheme of things those are relatively small (last place in the league gets £1.8 million, and each higher place is worth an additional £1.8 million) and add a lot more complications to the analysis.
For a firing to make financial sense, Arsenal would need to see their expected prize money increase by at least the £15 million marginal cost of the change. My rough calculations would then mean that Arsenal would need to increase their top 4 odds from 34% to 52% and their Europe League odds from 37% to 46%. These values would bring the expected prize money to a hair over £50 million.
With the current state of the Premier League and Arsenal's talent, I don't think that this is unrealistic but it is right at about the boundary line where it makes sense.
Given just this picture, it is probably really close to the time where it makes sense for Arsenal to part ways with Unai Emery. The even bigger picture probably makes this an even stronger case. The additional commercial revenue from sponsors of making the Champions League makes that a bigger prize. The ability to attract higher quality players (and keep the good players that are already with Arsenal) with the lure of Champions League is huge, and will make building towards next season and beyond easier.
With two of Arsenal's biggest rivals struggling currently, the path to the top four is still wide open, especially with three quarters of the season left to play. If Arsenal want to capitalize on this opportunity, there needs to be a drastic improvement in performance, or a decision to sack Emery before the window of possibility closes becomes more and more obvious.
This post originally ran on The Short Fuse