Discover more from Cannon Stats
Stats and analysis for all things Arsenal from Adam Rae Voge and Scott Willis. Going deep into match analysis, player scouting, transfer business and rumors, squad-building, and general transfer coverage.
Over 4,000 subscribers
Wolves 2-1 Arsenal: Instant Reaction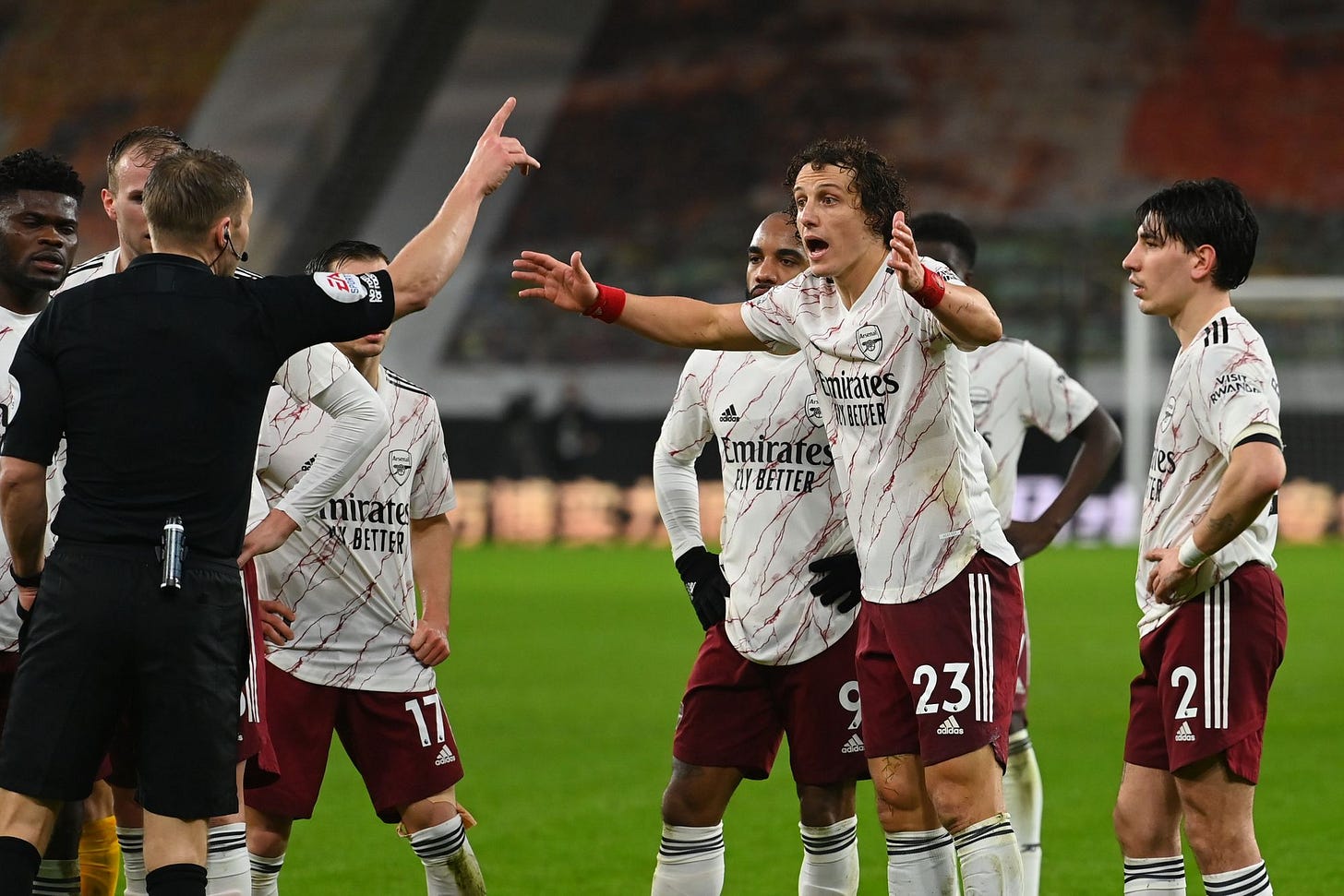 Well that was 45 minutes of good Arsenal and then some bad refereeing followed by self destruction.
Headline: Just move on
The second yellow makes this an easy one to just forget and move on from.
The first red card is really harsh. I can get behind that it is a penalty, David Luiz's knee does come into contact with the Willian José's heel that could be enough to knock him off. Willian José does also fall rather theatrically there to sell the contact.
From there you get into the really stupid intreptation of "not playing the ball is a red card." This seems like way the wrong application of that however, this isn't a cynical foul to take out the man, this is Luiz trying to do everything to not touch the player and more than anything being the one who is contacted.
This double penalty for Arsenal was a swing of 1.6 goals value, 0.8 for the penalty, 0.5 extra goals for Wolves up a man, and 0.3 less goals for Arsenal for losing a man.
Arsenal were the better team in the first half, the referee was bad and ruined things, there isn't much to learn from this match and let's just move on to the next one.
Stock Rising: Nicolas Pepe
It would be really easy to just say Bukayo Saka in this section over and over but this week I want to highlight Pepe.
I think that he has looked really good on the left hand side and he continued that in this match.
His natural tendancy to cut inside is still there but he is way less predicatable because staying to the left keeps him on his strong foot where he can get into deeper locations.
He also continues to have the high end talent that can really only be matched by Saka on this team right now. His ability to conjure something out of nothing is amazing and he did that on his goal today.
Stock Falling: Cédric Soares
I don't really have too much bad to say about most of the players on Arsenal today. Maybe Leno deserves this for his very stupid red card but honestly he's been solid and that was a brain fart.
I will single out Soares because well it fits my agenda.
He was not very good in this match and honestly I think he has been average or below since his good performance against Newcastle. This run of matches has shown to me that he is at best the clubs backup fullback on both sides and it is more and more obvious why Southampton was okay letting him go for free.
Match Stats