Discover more from Cannon Stats
Stats and analysis for all things Arsenal from Adam Rae Voge and Scott Willis. Going deep into match analysis, player scouting, transfer business and rumors, squad-building, and general transfer coverage.
Over 5,000 subscribers
Has Reiss Nelson earned his shot?
With the first two choices at LW for Arsenal, hurt is it time to turn to the Hale End graduate?
Arsenal are in a bit of an injury crisis. The list of names is substantial and concentrated in a few key positions, namely for the discussion today at left wing, with first choice Gabriel Martinelli and second choice Leandro Trossard both sidelined (hopefully for a short period).
Last time out against Tottenham, Mikel Arteta went with a bold (perhaps questionable) choice of moving his starting striker out wide to cover but with the combination of Arsenal's attack still not clicking right and Reiss Nelson looking sharp against Brentford in the League Cup a change might be in the cards.
Cannon Stats is a reader-supported publication. To receive new posts and support my work, consider becoming a free or paid subscriber.
This could get Reiss Nelson looking at this first Premier League start since July of 2020.
Anytime you bring up Nelson on the internet it feels like not long afterwards you will see this pop-up and it is undoubtedly impressive.
This is his performance over the last 365 days. The big caveat is that it is based on just 558 minutes. This is a major complication, when Nelson has found his way onto the field, all he has done is perform.
The issue too often is that he hasn't been on the field enough. Since he made his senior debut, he has failed to crack 1,000 minutes of league play. He has been plagued by inopportune injuries.
This was my worry when Arsenal were facing the decision on whether they should offer a new contract or not and it hasn't changed. He is with the team and back at full strength, the team looks like it could use his dynamism, speed, attacking abilities with the injuries they face. With the options ahead of him hurt and a massive date looming with Manchester City this is the perfect chance to give him his opportunity.
If Arteta doesn't trust him enough to give him his shot now, I really wonder why they decided to keep him with the team this season.
---
Advertisement
Not yet but it could be, this is something that we are exploring as a way to ensure that we can create more content (maybe even more of it free) for you all to enjoy.
If you are interested you can learn more here or send an email to scott@cannonstats.com to discuss further
---
Bournemouth Preview
Arsenal have a trip to Bournemouth on Saturday, on paper this should be one of the easier away days but it could also be a dreaded 'trap' game. Bournmouth are winless but sit in 17th place with 3 points.
On my metrics they also rank 17th this season, sporting the 17th best goal difference and the 18th best xG difference. Last year they were one of the weaker teams and were perhaps fortunate to stay up, this year they are playing in a different way under Andoni Iraola.
They are looking to have more of the ball, playing a more expansive style while looking to press more.
They are still playing quickly, with fewer passes per possession but they have paired it with a higher pressing style.
It will be interesting how they go against Arsenal and it will be key for Arsenal to not gift them chances.
---
Week 7 Odds
That's a pretty tasty early kickoff. Brighton are a team that my rating system has not loved because of the big sales that they made but they have continued to attack like crazy and find themselves in third place. Aston Villa has been a bit hot and cold, they have some big wins, and a couple of big losses. This will be a good measuring stick for both teams.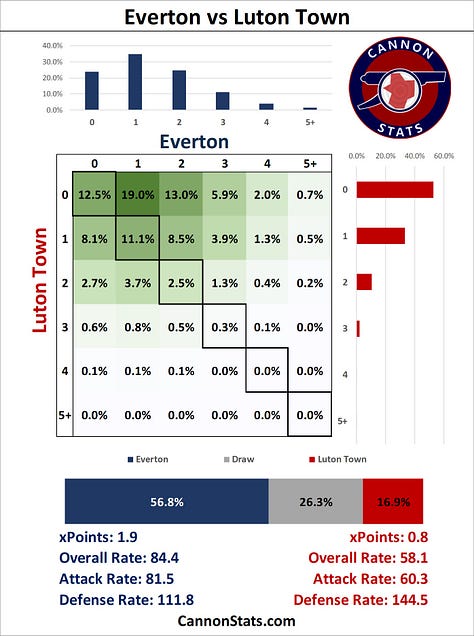 For the 7am (3pm UK) kickoffs it is a full slate. The slate also features all of the teams that finished in the top four last season, which means that none of these teams will be on TV in the UK. I don't understand the scheduling decisions sometimes.
The big Saturday match is a tough test of Tottenham. I thought they looked good against Arsenal, maybe still a bit fortunate to leave with a share of the points given the overall play but still very good. They face Liverpool who have been on a tear, and moved ahead of Arsenal in my team rankings. I think I am rooting for a draw here.
Sunday
Just the one match (still don't get the scheduling choices) here featuring two teams that aren't exactly must see TV. I am going to be on an airplane so I will miss this match, but I don't think i will really miss it.
Monday
Chelsea have been a team where the underlying performance has least matched the actual points. Looking at expected points they are nearly 6 points worse than their actual earned so far this season. It is getting to a point where it is almost funny to see the ways that Chelsea can figure out how to drop points. They will still have a makeshift team giving the injuries and suspensions that they are facing, I guess it is a good thing they bought all the players in the world.
🤠 Yee Haw
Programing note: I am on vacation next week, there will be scheduled posts but if anything breaking happens I won't be around to cover it.
Cannon Stats is a reader-supported publication. To receive new posts and support my work, consider becoming a free or paid subscriber.