Discover more from Cannon Stats
Stats and analysis for all things Arsenal from Adam Rae Voge and Scott Willis. Going deep into match analysis, player scouting, transfer business and rumors, squad-building, and general transfer coverage.
Over 5,000 subscribers
Is Ivan Toney better than Eddie Nketiah?
Probably but perhaps not quite as certain as we might think
I am very rarely described as "normal".
I am fine with that, and I think it is part of what makes me special and if I can be a little boastful, someone who provides different and insightful analysis. I have a contrarian streak in me, but more than anything I try to ask if things that are held as obviously true actually are.
I think one of these is around the potential signing of Ivan Toney.
I thought I had made a pretty milquetoast comment expressing my current probability of how certain I was on Toney being better than Eddie Nketiah (that reminds me that I should go back to tracking these and making more probabilistic estimates). That led to a good amount of discussion about the player and perhaps unsurprisingly, lots of people who were VERY certain that Toney was better.
I directionally agree with this, but I do want to go a little deeper into why I am not quite as certain.
Cannon Stats is a reader-supported publication. To receive new posts and support my work, consider becoming a free or paid subscriber.
Just how good is Eddie?
This question is still one that bugs me and drives a lot of my uncertainty.
My writing on this feels a bit like a broken record on this because the sample size for Nketiah is still frustratingly small. Here is what I wrote back at the end of the 2021/22 season.
What we are seeing now might be him at his absolute best but at least we know that he can be a very good player for at least a short stretch.

If I were to make a prediction on him going forward, I would probably adjust things down quite a bit. My previous guess at his true talent level was solid Premier League striker, a guy that could score double-digit goals over a full season and wouldn't be out of place as a starter on a midtable team.

This run of form really confirms that for me as still his most likely level, but maybe raises the question of if he could be THE GUY on a team that wants to be top 4.
After writing this we got to see him play another 1,000 Premier League minutes and look pretty good (probably even better than that).
He certainly had frustrating moments but I think that is kind of expected from a player that is a club's backup option. So much I think is driven by his very cold run of finishing in front of goal, if he is closer to the 8 or 9 goals that his shots were estimated at, people are probably significantly happier with him as a player and option for Arsenal.
Instead, he went ice cold, with the second largest under-performance in the League. Outside of last season, he was thought of as an average finisher, with his expected goals tracking well to his actual goal output. Maybe this data point should change our expectations downward (it is still just 41 shots) but this season he is back to his finishing tracking to his expected goals (2.3 vs 2).
His numbers this season are down from last year but that is true across the board for the Arsenal attackers (and the attack in general). Even at this lower level he still compares surprisingly favorably to Toney.
It is not easy but I am still not sure what the level is for Nketiah, I think given the imperfect information that we have is probably pretty good. When he has played with Arsenal's first team, the performances of the team have been able to hold steady, he is trusted and rated by the manger (he certainly picks him when he doesn't have to, and that is not the case with other players) and has worked his way into the fringe of the English National Team.
These are pretty positive indicators for him, even if his path to getting here has not always been clean and like we expect for young players who break into a team.
The Delta Between Toney and Nketiah
I do think that Toney is a better player.
He's in his prime, he's carried a team first to promotion and then to safety and then to a deserved midtable finish. That is impressive and better than anything Nketiah has done on his resume, where he has always been the second guy behind a starter with a smaller role and lower pressure.
That being said, the difference in their stats is not nearly as pronounced as you would expect given how they are seen by fans.
They are roughly even on their stats and ratings for Shooting (79 to 76), Passing (53 to 56), and Defending (67 to 65).
Toney is rated better at Creating (45 to 33) but with neither looking especially good at it. While Nketiah rated better at Carrying/Dribbling (34 to 66) and Receiving (42 to 85).
It is hard to fully account for the differences in the team strength (Arsenal are obviously better than Brentford), the role (Toney has things built around him), and tactics (Brentford are significantly more direct) for both but what I see here is enough to introduce a tinge of doubt.
I have gone deeper into some of my other reasons for having concerns here:
So with uncertainty about Nketiah's level, the difference in the two players, Toney coming back from a ban and the general way that there is uncertainty around a player changing teams; I think my 60-70% rating still feels like I am in the right spot for who would be a better option for Arsenal.
Chelsea - Better than their table position?
Chelsea come into this match 11th in the table and having dropped quite a few points against teams that they would have expected to do better against. It has made for some fun schadenfreude and helped bring brightness to the weekend.
One of the things that has come out of those matches however is that the performances from Chelsea has not matched the results, with the team currently underperforming their expected place on the table by the second largest margin.
What this does do, is complicate the analysis of the team. For example when Manchester United came to Arsenal, they were also floundering on the table but they had performances that matched and if anything they had been on a run of hot points accumulation compared to their underlying numbers.
Chelsea are the opposite story.
Chelsea's stats point to a team that is playing well and not like a team that has been stuck in midtable or below for going on 10 months.
In my team ratings, they are currently ranked as the 5th best team in the Premier League, looking at only this season's data they are tied with Tottenham as the 6th best team. I don't quite have them as high as 4th like the expected points do but still have them in a much higher position than 11th.
So maybe they are actually a good team?
Not so fast there, this is still complicated.
They have played an extremely easy schedule. Only Everton has had an easier slate of matches this season, they have only faced two teams in the top half of my team ratings so far this season (Liverpool and Aston Villa) and have faced two of the promoted teams. They have also faced some of the weakest defensive teams (average ranking 14th), with the best being Liverpool (ranked 5th).
For a team that we expect to be good, they have also spent a lot of time in losing positions, which is a game state that can skew attacking and defensive numbers as teams look to defend the chance at points. That being said, they do still have significantly better numbers than their table position at an even or close game state where they rank as the 3rd best team.
Back to the central thesis here, are they better than their spot on the table? Almost certainly. The hard part is saying how much better and I think for that I come down saying that they are still outside contenders for a Champions League spot but they will have a hard test coming (they have a brutal run through the beginning of December facing Arsenal, Brentford, Tottenham, Manchester City, Newcastle, Brighton, and Manchester United) after blowing a really good chance to pick up points against a soft schedule.
Matchweek 9 Odds
After a long international break things start off with a Merseyside Derby. It's Liverpool back in the early spot after an international break, I am sure Jurgen Klopp is very happy about that, no one should ask tho because he is sensitive about the topic.
There is a big slate of 7am (3pm) matches.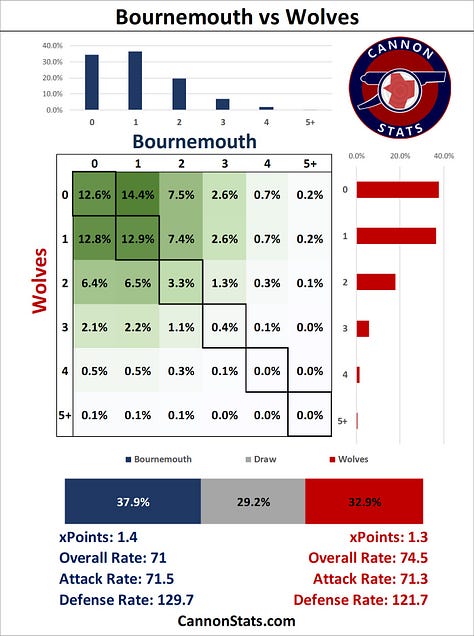 I think the one that will get the most attention from me is Manchester City and Brighton. Another set of dropped points could make the title race very interesting.
Saturday gives us a couple of late matches starting with the one that we all care about the most.
For the second time in a row Arsenal are below 50% odds to win but will come into the match with the better odds compared to last time out against Manchester City. The big questions that I am not sure we will have much of an idea about will be who is available for Arsenal and what sort of lineup we might see.
The last match on Saturday is a pair of United matching up, the United from Manchester should win but with them you never know.
Sunday
I don't know what to say about this one, it could be boring. I am going to watch it but I might hate myself afterwards.
I wrote about Spurs this week, being a bit dismissive of them so I expect that they will go out and produce a big win.
🤠 Yee Haw