Discover more from Cannon Stats
Stats and analysis for all things Arsenal from Adam Rae Voge and Scott Willis. Going deep into match analysis, player scouting, transfer business and rumors, squad-building, and general transfer coverage.
Over 5,000 subscribers
It is time to let Trossard try and unclog the Arsenal attack
Arsenal's attacking numbers are not great right now.
Arsenal have scored 16 non-penalty goals, that is 8th in the Premier League. Arsenal have 14.7 non-penalty expected goals, which is 11th in the Premier League. Arsenal are taking just 9.5 open play shots per game right now, that is also 8th in the Premier League. Arsenal are averaging 2.1 in goal probability added per match, which is 8th in the Premier League.
It is clear that the attack is not firing right now with a clear downward trend from last season.
There are probably multiple reasons for it with tactics, player changes, and injuries all playing a part. The more important question is what else can Arsenal try to change things around?
One of the obvious changes is to look at making a change to the player up front, and that might be something that Arsenal are forced into trying once again.
Gabriel Jesus is an outstanding player, he has an obvious flaw (finishing) but outside of that, he is probably among the most complete forwards in the game right now.
Replacing him and what he offers is always going to be borderline impossible. Teams with limits to their spending just cannot have two players in a premium position that are both that quality.
Eddie Nketiah is a very capable backup striker, and Arsenal are very lucky that he came through their academy but there are still questions about what he can provide when he has to play for long stretches of time, with teams having time to plan against him.
He has strengths as a player, he's good at finding his own shot, he puts in a work pressing and defending (most of the time) but one of the main areas he is not Jesus is his ability to play outside the box, and bring his teammates into the game.
This is not all Nketiah's fault by any stretch of the imagination but this season both Gabriel Martinelli and Bukayo Saka have been off their best with their shooting output.
Martinelli has dropped from one of the best shooting wide forwards to average and Saka has dropped from very good numbers to just above average. Losing one of the best creative forwards and a player comfortable switching with them may not be the only reason for the drop but it is likely a contributing factor.
Enter Leandro Trossard
This is where Leandro Trossard could be a key factor. He's probably the closest like-for-like alternative to Jesus at the club at being able to do the things he is capable of outside the box. This factor and the team's play last season made me think he has usurped Nketiah as the first-choice backup but Arteta stuck with the hale end product.
There is a drop-off potentially in direct output from the striker position but if that means that Martinelli and Saka (maybe even Havertz) can provide more it might be something that is worth the trade-off.
It is just one game so far but the performance against Sevilla felt like it was something that brought back the spark to Saka and Martinelli, and had Arsenal asking different questions of the defense with the rotation between the multiple players.
His match against Sevilla saw him all over the field, receiving on the half-turn and playing the ball forward. His ability to come left and right also felt like it made Arsenal more likely to have numerical advantages in those spots while dragging centrebacks out of position with him vacating central spots.
It might not be a silver bullet but with a quarter of the season played and the attacking results looking iffy, it looks like trying something new, even if it is forced by injury, is in order.
Cannon Stats is a reader-supported publication. To receive new posts and support my work, consider becoming a free or paid subscriber.
Week 12 match odds
Tottenham have the early match after a crazy and pretty suicidal performance against Chelsea saw them suffer their first loss of the season. They will be down several key players with injury and suspension and a match that they would have hoped to get something from looks a lot harder.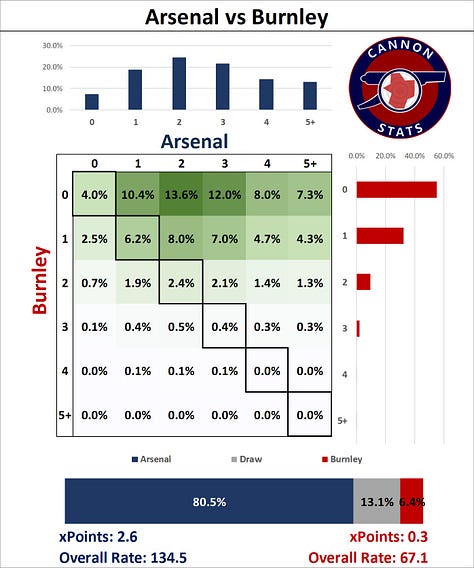 For the 7am (3pm) kickoffs I will be focused on Arsenal. This is the start of a big run of four matches that should have them favored to pick up points. My model expects 9.1 points from this run and that feels like the bare minimum if they want to stay in the title hunt with 10-12 really what is needed.
Bournemouth vs Newcastle is the late game and it doesn't look all that close on the odds.
On to Sunday: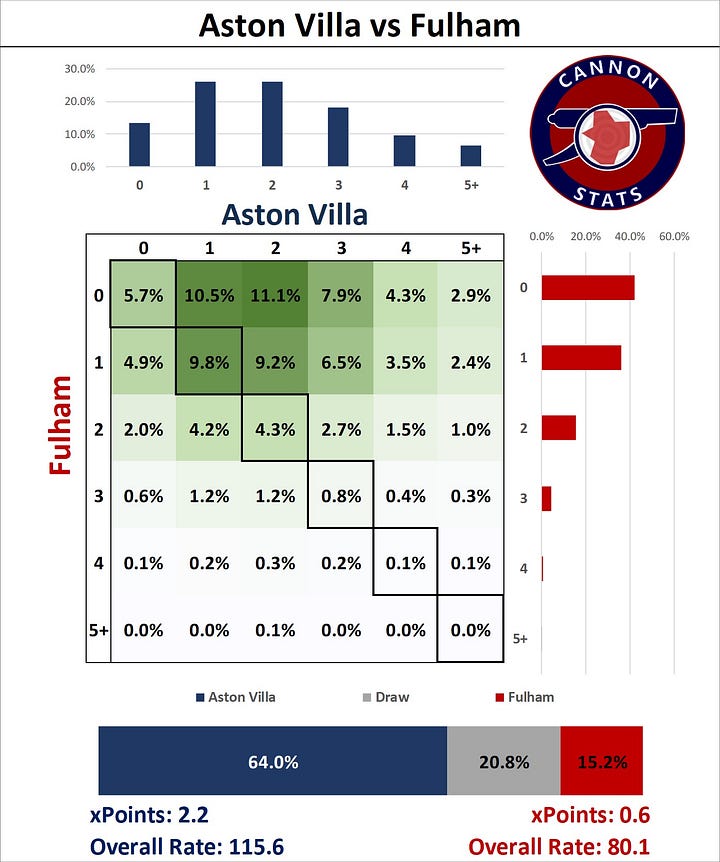 Things start Sunday with a busy 6am slot. The most interesting match here is probably Liverpool vs Brentford. Liverpool have snuck into the second spot in the title odds and this is a potentially sneaky tough match for them.
Finally things end with Chelsea vs Manchester City:
Chelsea won big on Monday but they did not come away looking good. They really screwed things up against a 9 man opponent. If they play like that against Manchester City they are going to get blown out.
🤠 Yee Haw. Enjoy the weekend.