POWER RANKINGS - November edition
Ranking the big 7 PL clubs based on current/recent form
Doing rankings is a fun exercise. It gets everyone thinking and usually leads to good discussions about things. Plus it is a great way to go on the record with your opinions on teams.
I did this back in September on the Arsenal Vision Podcast and I really enjoyed it but I hadn't brought it here until now. I will look to do this monthly and track how things are looking for the teams.
This will be a ranking of the "Rich 7" (is there a good or better name for these teams?) clubs and potentially 1 other club if they are really of merit to be included, going in reverse order.
8 - Manchester United
Manchester United are a shambles and they make it the easiest to pick them as the last-place team of this group.
If we are being totally fair they should be dropped completely because there are probably several teams that don't have the financial firepower that I would put ahead of them. They are in 6th place in the Premier League right now but they absolutely do not deserve that place at all with how they have played.
What is happening this season looks like bad squad building over the last few years coming home to roost. This is a team that looks unbalanced and like they are incapable of doing what is required of them.
Rasmus Højlund looks like a promising player but one that it is unfair to have thrown into needing the savior of a big team. (this what Adam called when he had links to Arsenal last year).
Casiermo, Eriksen, Varane are all showing their age and why the deals for them were always short-term deals at best to paper over cracks. Sofyan Amrabat hasn't been more than the average midfielder he profiled as before.
Maybe they bounce back some over the coming months but having already played the second easiest schedule in the Premier League (by my measure) and still looking this mediocre doesn't really inspire confidence.
7 - Tottenham
I do not believe in Tottenham and I have been on this train for a while.
They do play a fun-to-watch style and have improved but they are and were riding high on sequencing and vibes. To date, they have played the easiest schedule (wild considering they have played two more matches away as well).
The impressive results have taken quite a bit of good fortune. With the scored tied they have the 9th-best xG difference but have turned that into the 4th-best goal difference.
They are a better team than last season, and they are laying a strong foundation to build something for the future but I think realistically they are probably closer to the 7th best team than a team that will challenge for a title.
This is a good run down from perhaps a more impartial source on how they are going:
6 - Aston Villa
I am using my bonus pick here to put in Aston Villa on the list. Mostly because they deserve it but partially as a mea culpa for not believing in them and Unai Emery.
To be fair to myself at the time it really did look like Aston Villa were winning points with smoke and mirrors and if they continued on that trajectory they would be very unlikely to sustain that pace.
What has happened instead is that they have turned into a solidly good team! They still have some weirdness with a few really big losses but they have balanced that out with some really big wins.
Overall they are impressive, I think they have put together a balanced and exciting team full of talent (with several players that I think teams above them in the food chain would love to have). The level and expectations also seem to suit Unai Emery really well, he can do a bit more of his underdog style and create a team that looks like it will be on the cusp of the big European spots.
5 - Newcastle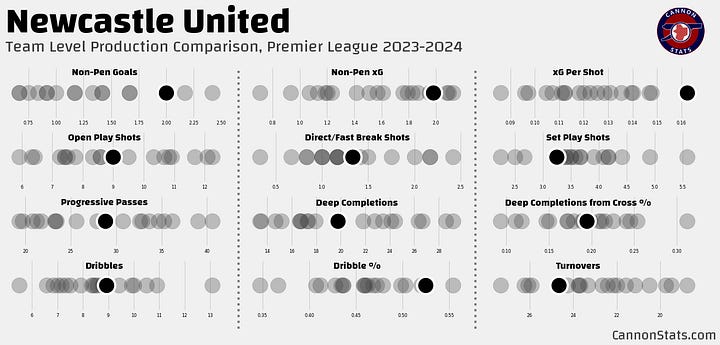 Keep reading with a 7-day free trial
Subscribe to Cannon Stats to keep reading this post and get 7 days of free access to the full post archives.