Discover more from Cannon Stats
Stats and analysis for all things Arsenal from Adam Rae Voge and Scott Willis. Going deep into match analysis, player scouting, transfer business and rumors, squad-building, and general transfer coverage.
Over 5,000 subscribers
The Champions League Group Stage is Boring
The stakes feel so low and the results already known. Change can't come soon enough.
With Arsenal out of the Champions League for so long, I have had a much more casual grasp on the competition. I watched the big matches but usually found myself watching the Goalzo show that they have implemented on Paramount Plus.
What I think this did however for me was hide some of the fact that the group stage of this competition is rather boring as the spread in talent has concentrated in the top 8-10 teams in Europe.
This really came into start relief for me as I watching Tuesday and it continued into Wednesday. Most of these matches are not close and the actual stakes of the group stage feel imaginary and for most of the groups takes a team really screwing up to bring things into jeopardy.
In match week 1, there were just 8 matches were the margin of victory was 1 goal or less, with 8 matches where a team won by 2 or more goals. On the expected goals front the margins were even less close, there were only 6 matches where the margin was less than 1, and only 3 where the teams were within 0.5 xG of each other.
I don't think this is going to be an outragous anomaly either.
Looking at the current betting odds for teams to advance or win the group suggests that for most of the groups things are essentially decided for at least one team and with a good idea of which two teams will move on after just one match week.
For Group G, Manchester City are already 99% to advance, with an 86% chance of winning. It is not much different in Group H with Barcelona at 96% and 70% to win the group.
The other groups are not much closer, with only two second place teams under 50%, and half over 70% to qualify for the knock out round.
I am very excited for Arsenal to be back in the Champions League but it is really crazy now that the level of drama in the group stage feels non-existent and as long as a team doesn't massively trip up they should be on to the next round.
This is the last time that we will have this problem for the group stage with things changing next season to the single table and swiss model for determining who each team will play. The Athletic has a good break down of how it will work here.
It can't come soon enough for me because I would like to have a bit more doubt without waiting until the knock out rounds roll around.
---
Advertisement
Not yet but it could be, this is something that we are exploring as a way to ensure that we can create more content (maybe even more of it free) for you all to enjoy.
If you are interested you can learn more here or send an email to scott@cannonstats.com to discuss further
Cannon Stats is a reader-supported publication. To receive new posts and support my work, consider becoming a free or paid subscriber.
---
North London Derby Preview
It is a huge match for Arsenal this weekend. The schedule for Arsenal has been soft with the current crisis club Manchester United the hardest test so far. That will change this weekend with a resurgent Tottenham Hotspur coming to the Emirates Stadium for the first North London Derby of the season.
I had the pleasure of talking with Michael Caley of the Double Pivot podcast to preview the match and how things look from the other side and highly recommend it.
There are still some interesting things in the numbers that I think are worth looking at further. The first is looking at the contrast between this season and last season in the attacking metrics.
It is still a very small sample size and it is aided by a nearly equally soft schedule but the difference is stark and eye-opening. Ange Postecoglou has come in quickly and taken the Antonio Conte attack and supercharged it.
Spurs are currently creating the most shots, the third most non-penalty xG, and getting into the box the most of any team in the Premier League. Arsenal are still not quite clicking with the attack.
The defensive metrics for Tottenham are not quite as stark as the attacking metrics but they are still looking solid here.
They are not at the level of Arsenal so far this season and have been a bit more open than I am sure most would like in their two hardest matches to date:
They allowed 2.2 xG (including a penalty) to Brentford in a match they were probably a bit fortunate to draw on the balance of chances, with Brentford missing good chances to make it 3 goals at 2-1 and at 2-2.
Against Manchester United they made them look as good as they have all year in the first half. Overall they allowed 2.1 xG from 22 shots and it was again one they maybe on balance came away with a fortunate result from the balance of chances.
Overall the numbers look good, they aren't an elite defense but the early returns suggest a solid defensive team right now.
On balance, Spurs have looked improved from the team that struggled last year stumbling into midtable. They lost Harry Kane but have leaned into youth and new system to move in a new direction. It will be very interesting how they lineup against Arsenal, they have been very strong at using a 2-3-5 buildup and that could leave Arsenal lots of space out wide for the wingers to exploit but also give them a handful to keep the team out of the box.
There is a little bit of the narrative about the teams and the current levels that reminds me a bit too much like what we saw last year going into the Derby, with things flipped. It made for some great for the memes after the match but it is making me nervous and has some bad vibes creeping in here.
Hopefully, this is just me getting a little over worried and it will come to nothing.
---
Match Week 6 Odds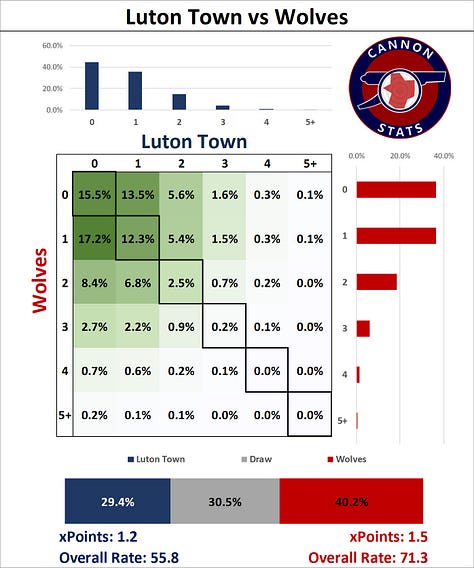 No early games so it is straight into the 7am (3pm) kickoffs. None of these are especially appealing as a spectacle so it will probably be the Goal Rush show from Peacock and whatever they feature.
The first late game is an interesting one. I am still high on Brentford and not all that impressed with Everton after watching them play Arsenal last weekend. I think Everton could be in big trouble after this one.
Saturday ends with the crisis club Manchester United with a pretty favorable match to get right. I think Burnley with their intention to play, plus being at home could be a good matchup for United to get back to winning ways and they might even look impressive doing it.
Super Sunday!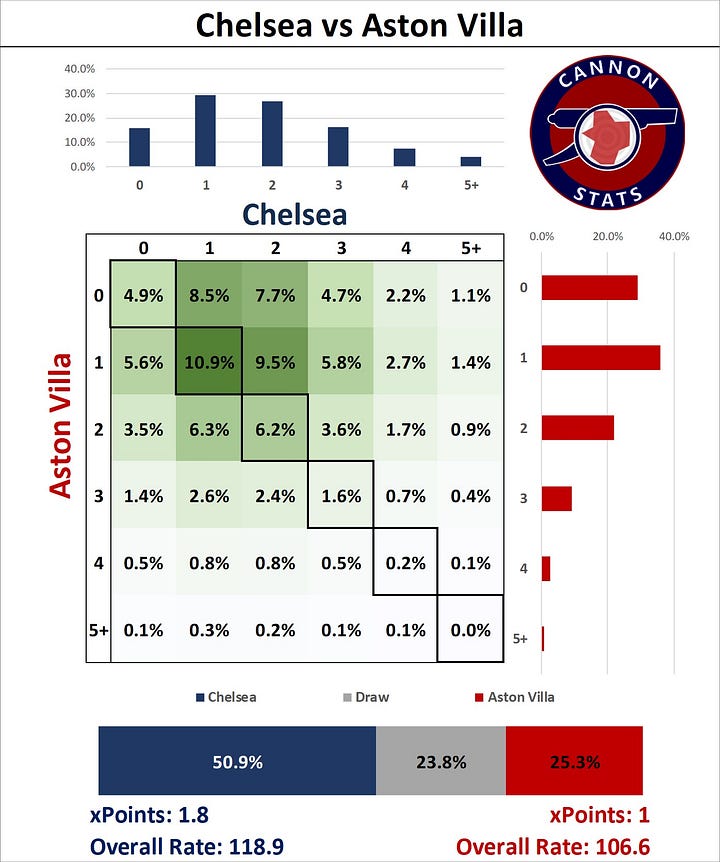 Lots of matches in the 6am (2pm) timeslot with the return of the Europa League. I will obviously be watching the Arsenal match but I will be interested in most of the results later to see what happens.
The weekend ends with a match that isn't all that impressive but should give Newcastle a decent chance to wash the bad Champions League performance out of their mouth.
🤠 Yee Haw. Hope everyone enjoys the Derby